December 15, 2010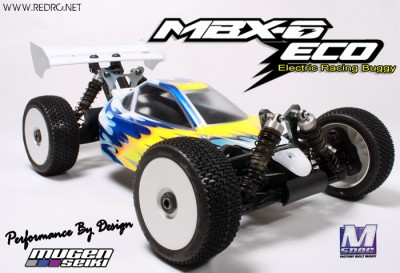 Mugen Seiki Racing have introduced the new 1/8 scale MBX6E M-Spec factory built Electric buggy. The MBX6E is based off their championship winning MBX6 buggy platform but sold in their M-Spec version which is built to Mugen's specifications. All the differential and shock oils, shock springs, ride height, camber and caster adjustments are straight from the Mugen race team. The world of 1/8 Electric buggy racing just got much easier with the MBX6E M-Spec. Expect a January 2011 release date.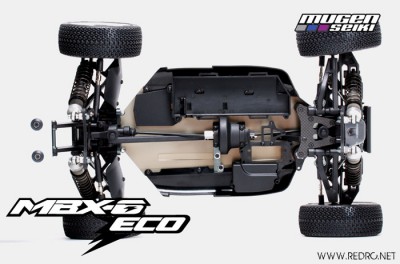 MBX6E Features:
– 3 Differential Shaft Drive 4WD
– New design A70-75 (T6) Alum. 3mm Chassis (5mm longer than the Nitro buggy)
– 15mm Threaded Front/Rear Shocks
– 5mm Front Alum Shock Tower (E0549)
– 5mm Rear Alum. Shock Tower (E0550)
– 2 pc Universal motor mount
– New Design Front Mount Receive/Servo Radio Tray/Box
– Molded Low Center of Gravity Battery Tray (Adjustable Battery Position) which accepts 2 R.O.A.R. approved 1/10 scale size 7.4V LiPo Battery Packs.
– Special ESC Tray
– Special Spur Gear Cover
– Special Design Body with Low Cab
– Front Mounting Position Transponder Mount
– Longer Plastic Rear Chassis Brace
– 15mm Threaded Front/Rear Shocks
– Pre-Glued Brake Pads
– Front/Center/Rear Universal Drive Shafts
– Self Locking Wheel Nuts
– Rear Suspension Mud/Dirt Guards
– Black Wing (E1012)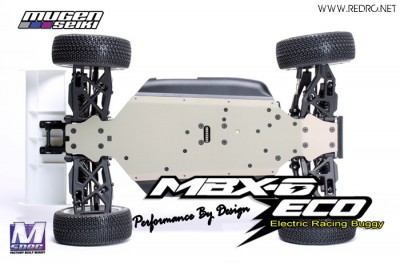 Technical Data:
– Width: 309mm
– Wheel Base: 315mm ~ 320mm
– Gear Ratio: 11.98:1
– Weight: NA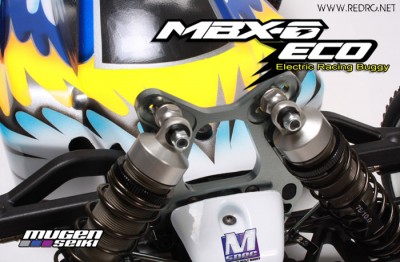 M-Spec Features:
– Pre-Assembled Differentials and Shocks with factory Mugen differential and shock oils
– Pre-cut Body
– Pre-set Camber, Caster, Ride Height, Front Tow In/Out and Rear Tow in all to Mugen Race Team settings.
Differentials Oils:
Front – 5000 wt Oil (B0322)
Center – 10,000 wt Oil (B0317)
Rear – 2000 wt Oil (B0334)
Shocks and Springs:
Front – 400 wt Oil (B0316), 9.75 Very Soft Spring (E0560)
Rear – 400 wt Oil (B0316), 10.75 Very Soft Spring (E0563)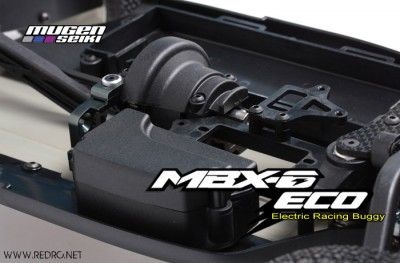 Not Included:
– Electronic Speed Control
– Electric Motor
– Battery
– Radio Gear
– Tires and Wheels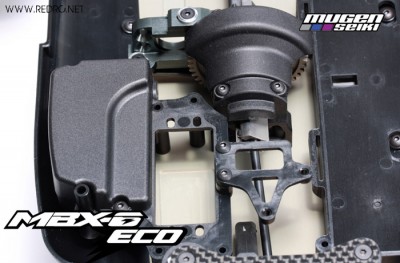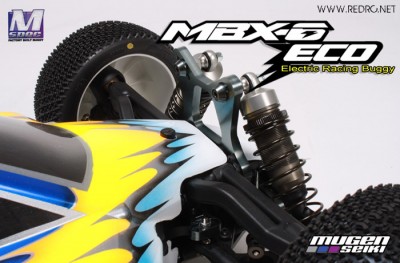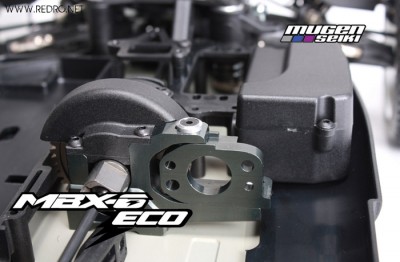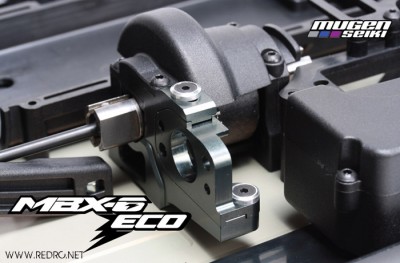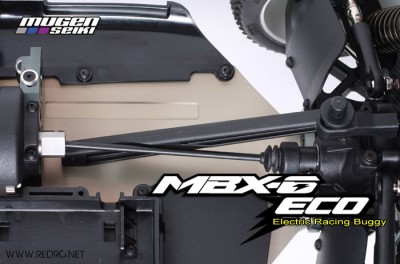 Source: Mugen [mugenracing.com]
---