January 29, 2011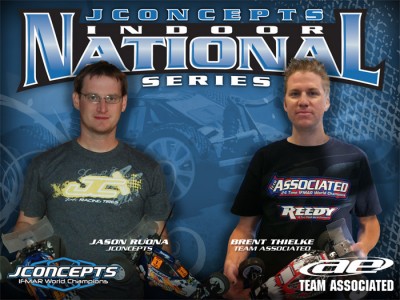 For 2011, JConcepts, together with Team Associated and the participating race tracks, have organized a first of its kind, true Indoor National Series. Scheduled as a 4 race series across the United States, drivers now have the opportunity to showcase their abilities on a national and regional level.  Jason Ruona, president of JConcepts along with Team Associated race team manager Brent Thielke have made the commitment and are attending each race in support of this new series.  Team Associated / JConcepts drivers, Ryan Maifield, Steven Hartson and Tanner Denney highlight just a small portion of the attending drivers traveling from across the United States to compete at select events. Commitments from many other drivers are coming in on a daily basis. Race 1 (February 5-6, 2011) is coming up quickly and there are already a number of surprises shaping up. Brent Thielke is tentatively scheduled to debut the Team Associated SC10 4×4 truck at race 1. Jason Ruona will be on hand releasing the new JConcepts Bar Codes V2 and Rips tires to the public for the first-time.
– Winter Indoor Nationals – February 5-6 – St. Louis, MO (SmacTrac Raceway)
– Spring Indoor Nationals – April 16-17 – Huntington Beach, CA (OCRC Raceway)
– Summer Indoor Nationals – July 2-3 – Chico, CA (Outback Raceway)
– Fall Indoor Nationals – October 1-2 – Fitchburg, MA (R/C Excitement)
For more information about the events or registration please visit the event site here.
---