January 29, 2011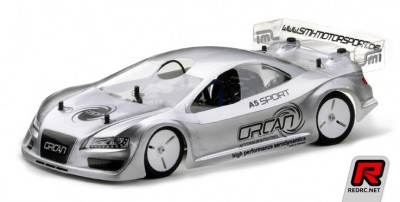 Early enough for the new 2011 outdoor season Orcan has launched a new touring car body named A5 Sport. SMI-Motorsport in Germany together with German body maker TRT/SLB and two-time European Champion Dirk Wischnewski have developed this new 200mm body on the basis of the successful A5 200mm. "At the beginning we wanted to change only a few small things", Bertram Kessler of SMI reported, "but then we brought in more and more cutting-edge ideas which made the new Orcan A5 Sport more sporty, more agile and finally faster."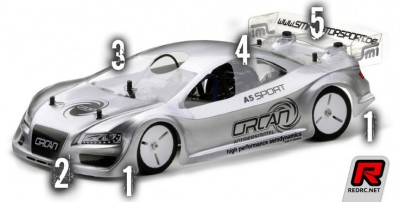 The new Orcan A5 Sport displays five striking changes:
1. The front and rear overhang has been shortened by one centimeter each to create more agility.
2. The front spoiler is more flat and in the area of the front lights additional flaps have been reintegrated to increase front end grip.
3. In the area of the front screen the body is more concave. This selective measure creates a higher downforce and makes refueling easier.
4. The new body has a smaller design in the area of the side windows and the rear window which results in a better incident flow of the rear wing to increase rear end grip.
5. The mounting points for the rear wing are reinforced and wider to offer more stability and a better adjustment of the rear wing to achieve a perfect car balance.
"In a back-to-back comparison you can not only feel that the new Orcan A5 Sport is better but you can also see it in the stop watch", Bertram Kessler said. The new A5 Sport 200mm of Orcan, a product line of the German company SMI Motorsport, will be available early March, including an EFRA number of course.
Source: SMI Motorsport [smi-motorsport.de]
---