January 26, 2011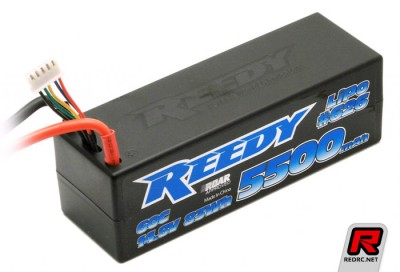 Reedy have announce the arrival of the 5500mAh 60C 14.8V competition LiPo batteries for the 2011 racing season. Competition tested and proven by world-class racers, this battery features high capacity for maximum duration with a 60C rating for maximum power output. Designed for 1:8 electric buggies and truggies, this battery fits perfectly in Team Associated's RC8e, SC8e, and RC8Te while also suitable for use in many other chassis. Reedy's molded hard case helps protect against crash damage and a Deans Ultra Plug connector minimizes resistance and increases power output.
Specifications:
– Capacity: 5500mAh
– Voltage: 14.8V (2S)
– Max. Charging Current (A): 11.0. Max. Cont. Discharging Current: 60C (300A).
– Burst Discharging Current: 80C (440A)
– Dimensions (mm): 138 x 47 x 45
– Weight (g): 606
– Connector: Deans® Ultra Plug® with 12-gauge wires.
Source: Associated [rc10.com]
---