January 4, 2011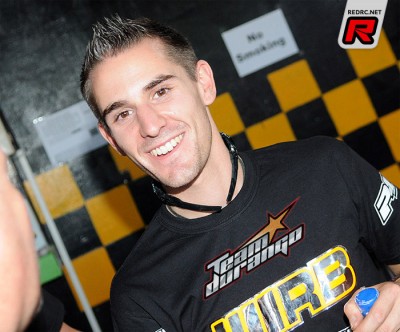 Team Durango is delighted to announce that multiple European Champion and Worlds finalist, Renaud Savoya, will be joining their international race team for the 2011 season. Reno is regarded as one of the most gifted and friendly drivers in RC today. Here is what he had to say:
Like I said a few days ago, The Shark is ready to bite! Starting January 2011, I will race under the Team Durango flag! Everybody at Team Durango has shown me incredible motivation and professionalism. Thanks to the technical team and the drivers; we will focus on producing the best cars on the market. Everyone at Team Durango is 'Serious About Racing'. I'm really excited with this move and I look forward to race Team Durango for the near future, and of course, win! I will race 1/8 buggy (nitro and electric), 1/8 truggy, 1/10 electric, and the very impressive US style SC. The Team looks impressive and I'm proud to be part of it.
We got in touch with Renaud to answer us a few questions.
Q. Was it your intention to look for a new drive at the end of 2010 or did Durango contact you?
A. At the end of 2010, I was quite sure in my head that I did my time with Mugen Seiki and I wanted to go in another direction. Living in the US is also a way to look for other sponsors in order to run many categories. Team Durango was one of the brands that contacted me. Looking at their motivation, professionalism and all the awesome products they have, it was easy to take a decision !
Q. Is it a multi-year deal?
A. Yes
Q. When did you have your first outing with the DNX408?
A. I tried the DNX408 a few weeks ago.  I will try the DEX410 pretty soon, in order to develop my electric skills !
Q. What were the biggest differences between it and your old car?
A. The DNX408 is really different than all the other cars on the market. The design and the weight balance are really well adapted to the category and we can feel a real difference on the driving. The car has got heaps of steering, but is also very stable and jumps very well.
Q. When will you make your competition debut?
A. It will depend on the schedule. I will probably race the CRCRC end of January, but nothing is sure yet as I have many things planned in January…First race I will attend in Europe will be Montpellier Grand Prix in France.
Thanks for taking the time to answer these questions for us and best of luck for 2011.
Source: Durango [team-durango.com]
---