February 8, 2011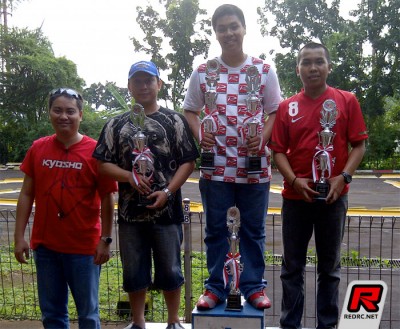 The first round of 2011 Jakarta Grand Prix series for 1/10 200mm was held at the JITC Race Track, with this championship series also used for "Indonesian Selection Championship" for the 2012 IFMAR World championship. The start of the race was delayed for about 1 hour to wait for the track to dry after it rained on Saturday night. In qualifying it was Bowie Ginting that took the TQ spot with the only 16 laps in the round followed by Fayakhun Andriadi, Chandra Yosef, Andhyka Pranusatya and Heri Susanto.
Qualifying result:
1. Bowie Ginting – 16 laps in 5.12
2. Fayakhun Andriadi – 15 laps in 5.01
3. Chandra Yosef – 15 laps in 5.02
4. Andhyka Pranusatya – 15 laps in 5.06
5. Heri Susanto – 15 laps in 5.07
At the start of the main final, Bowie Ginting had a bad start caused by the slippery starting box which sent him to the back row. Fayakhun lead the race followed by Chandra and Heri. At the 4.30 mark, Bowie took back the lead from Fayakhun and on 7 minutes Fayakhun had a problem that let Sewaka Ramadhani into 2nd place, followed by Chandra Yosef. At 20 minutes, most of the drivers changed tires including the current race leader, Bowie. This gave Ramadhani the first spot but he had to change his tires at 28 minutes and this gave Bowie his lead back with a 3 laps advantage. Bad luck for Chandra Yosef who suffered an engine bearing problem at 30 minutes that saw him retire. Fayakhun stepped up to 4th place. At the end of the race, Bowie won the race followed by Sewaka Ramadhani, 4 laps back. Andhyka Pranusatya, Fayakhun Andriadi and Rachmat Moeis completed the top 5.
Final Result:
1. Bowie Ginting – 135 laps in 45.11.435 (Xray/Novarossi)
2. Sewaka Ramdhani – 131 laps in 45.11.341 (Xray/Max)
3. Andhyka Pranusatya – 128 laps in 45.22.905 (Xray/Novarossi)
4. Fayakhun Andriadi – 121 laps in 45.20.682 (Kyosho/Sirio)
5. Rachmat Moeis – 119 laps in 45.03.204 (Kyosho/Novarossi)
6. Heri Susanto – 119 laps in 45.19.106 (Xray/Novarossi)
7. Ronny Suwarto – 117 laps in 45.19.662 (Xray/GRP)
8. Deddy Harmali – 99 laps in 42.11.303 (Xray/Max)
9. Chandra Yosef – 86 laps in 30.28.215 (Xray/Picco)
10. Sani Nugroho – 80 laps in 33.24.207 (Kyosho/Sirio)
Thanks to Bowie Ginting for the report.
---