February 15, 2011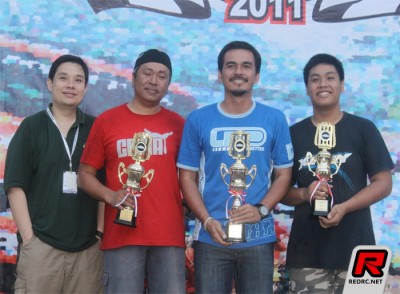 The Opening round of Indonesian EP National Championship was held in Sunter International Speedway last weekend, with perfect weather all day. The class ran were 11.5T Stock Class and Front Wheel Drive Class. In the Stock class, it was Teddy Syach who took the TQ spot with his Hot Bodies Cyclone TCX followed by Xray drivers, Rudy Budihardjo, Bowie Ginting, Asdi Nurmediana and TOP Racing driver Chandra Yosef completing the top 5. Faiza Murphy took the TQ spot on FWD class with his TOP Sabre.
Stock qualifying:
1. Teddy Syach – 16 laps @ 5.03
2. Rudy Budihardjo – 16 laps @ 5.07
3. Bowie Ginting – 16 laps @ 5.10
4. Asdi Nurmediana – 16 laps @ 5.13
5. Chandra Yosef – 16 laps @ 5.16
In stock class A-main leg 1 Teddy Syach held his lead position easily followed by Bowie Ginting and Asdi Nurmediana while Budihardjo got a problem. In the 2nd run, Teddy Syach got hit by Budihardjo and had to repair his bodyshell allowing Bowie to take the advantage. At 5 minutes, Bowie rolled his Xray letting Budihardjo and Asdi past. Bowie managed to retake Asdi but Budihardjo was fast enough to held his position by 0.5 seconds over Bowie. The 3rd leg was going to be awesome, with 4 drivers in with a chance to win the race. It was great start by Budihardjo who took the lead from Syach. Bowie and Asdi made contact which dropped them down to last place. Budihardjo and Syach had a close battle until 6 minutes when Bowie made his way to the back of the group. Bowie could overtake Budihardjo and was able to catch Syach and with 1.40 minutes left, it was a close fight between last year's National champion and vice national champion. With 55 seconds left, Bowie overtook Syach following a mistake at the last corner. Bowie held on to the first position followed by Syach 1.5 seconds back and Budihardjo. With the 2 best scores counting, Syach and Bowie had the same points and laps but Syach was 1 second faster and so took the win ahead of Bowie and Budyhardjo.
Stock Result:
1. Teddy Syach – Hot Bodies Cyclone TCX – 19 pts
2. Bowie Ginting – Xray T3 – 19 pts
3. Rudy Budihardjo – Xray T3'11 – 18 pts
4. Asdi Nurmediana – Xray T3 – 16 pts
5. Suwardi Suliandy – Xray T3'11 – 13 pts
6. Chandra Yosef – TOP Photon – 13 pts
7. Ronald Kasengkang – Hot Bodies Cyclone TCX – 10 pts
8. Ronny Suwarto – TOP Photon – 9 pts
9. Akai Lim – Tamiya TRF 417 – 8 pts
10. Heri Susanto – Xray T2'009 – 3 pts
In the FWD class Imam Liyanto took the win followed by Anton and Ade, in 2nd and 3rd respectively, while TQ man Faiza hit trouble.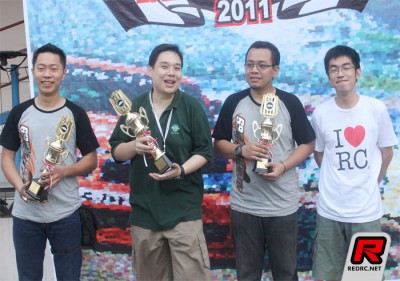 FWD Result:
1. Imam Liyanto – Tamiya FF-03
2. Anton Mulyadi – TOP Sabre
3. Ade – TOP Sabre
Thanks to Bowie Ginting for the report.
---