February 3, 2011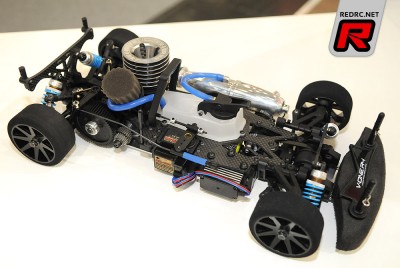 Kyosho once again have a large booth showing their diverse range of products to the assembled masses. On the stand was the follow up to their multiple World Championship winning V-One platform, the R4. This all new 200mm chassis has been designed from the bottom up with help from team drivers Adrian Bertin and Takaaki Shimo. Featuring really small diameter differentials gives the car a lighter drivetrain and this also helps obtain the car's super low centre of gravity. Sporting aluminium lower suspension brackets, there is the two piece rear block configuration as seen on its competitors, an adjustable servo saver position and an all new 2-speed gearbox. We are told that the only parts carried across from the old car were the shock absorbers.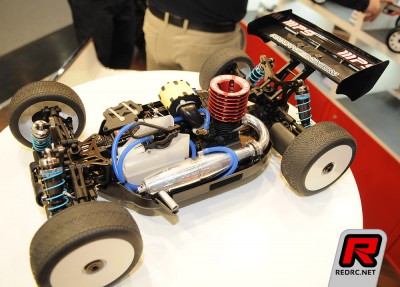 The Inferno MP9 Worlds Edition is taking pride of place with Cody King's race winning car and trophy on display, but they also have the production version also on show. The car is based on the TKI2 and sports stronger front and rear shock towers, the rear versions have 10 instead of 8 upper suspension link settings, new stronger rear upper upright linkages, thicker front lower suspension bracket and of course the forward mounted battery configuration.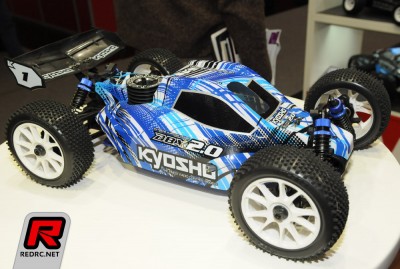 The company's DBX2.0 has been given a revamp with new cab forward pre painted body, a longer chassis and wheelbase, a new cooling head on the engine and the ability to now fit regular 1/8th scale buggy wheels and tires. Their RTR's now come with either one of two 2.4Ghz transmitters, the more basic KT200 for the entry level and the KT201 with digital display for the race spec RTRs. Both radios feature end point adjustment and other features found on mid spec transmitters.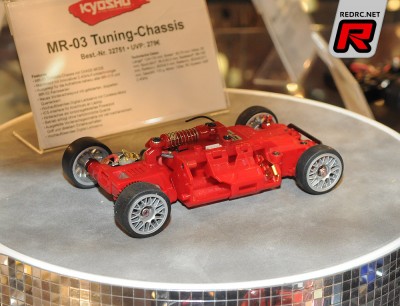 On the Mini-Z side of things they were displaying a limited edition full red MR03 chassis. The important thing is not the red colour but the new 'Tikitiki' system inside. Similar to the KERS system in F1, when turned on regular full throttle will only give 70%, or some other set amount, of power which can be boosted to the full 100% a user determined number of times during the race. This of course would make for great racing and adds an extra fun element to driving.
---