February 5, 2011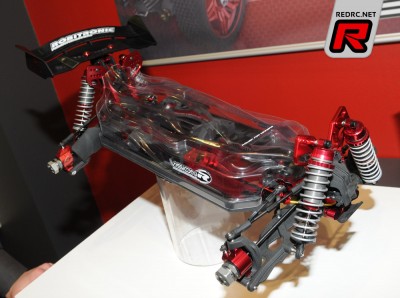 Robitronic were keeping tight wraps on their all new prototype competition 1/8th scale 4wd buggy, only allowing selective photos to be made. The new car is a completely purpose built platform for the BL class and features some very nice features. The backbone of the chassis plate is an aluminium center strut with angled carbon plates on either side that create a V shape to the bottom of the car for extra ground clearance and better stability in the air. The drivetrain resembles that seen on a modern 1/10th 4wd buggy with an ultra efficient straight shaft configuration that enables a saddle pack mounting configuration to accept two 2S LiPo packs using their neat battery mounting brace system.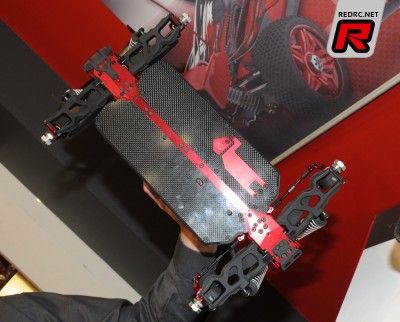 A super low centre of gravity, the front, rear and centre diffs can be easily removed with 4 screws at each point, both front and rear diffs are supported by ball bearings as are the diff drive cups which helps prevent wear and improve performance. An optional center slipper diff will be available. Another neat feature is the ability to replace the chassis down stop point on all four corners when they get damaged. All new big bore shocks, which along with a wide range of suspension travel give a nimble handling car. The car is finished off with a low profile bodyshell and rear chassis mounted diffuser which they claim helps the downforce of the car.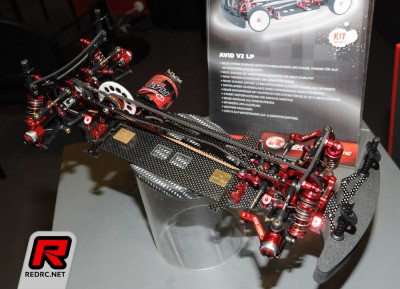 Next to the Vision, the Avid V2 LP is now available. The new LP version is designed to accept LiPo packs only as opposed to the version that was shown last year that still featured a NiMh ready chassis and also sports a new steering rack configuration.
---