February 6, 2011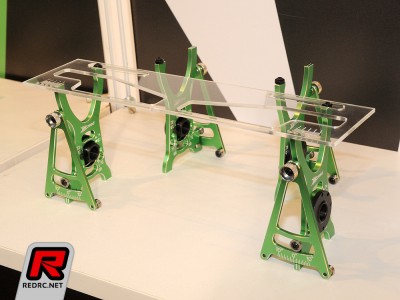 Xceed have a number of new items on display at their stand including these setup systems for both 1/10th and 1/8th scale on road. Your conventional system in how it works, it features new plastic eccentric inserts that can be pre-set to the preferred tire size for more precise measurement and adjustment, while rubber feet prevent the blocks from sliding on your setup board. Coming in green anodised aluminium, it is supplied with the toe in plate and comes packed in a handy carry bag. Xceed also have their new tweak station, a standard affair in green, it will be supplied in a box.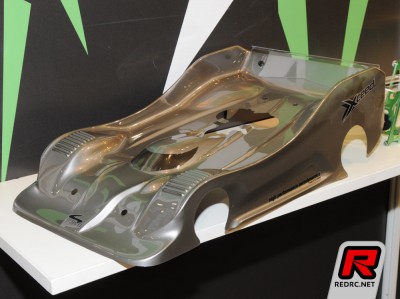 They have three new competition bodies on display, the prototype C5 1/8th scale with twin level front spoiler for extra steering. The shell is still in the testing stage and some design changes are expected to be made. The Xceed Cruzer 200mm shell is shorter with a steeper front and narrower roof which allows more air to flow over the rear wing for more downforce and therefore reduced steering, something customers have been asking for. Finally there is the latest generation of Audi 200mm body, which is the same as that released under the Orcan brand a week ago.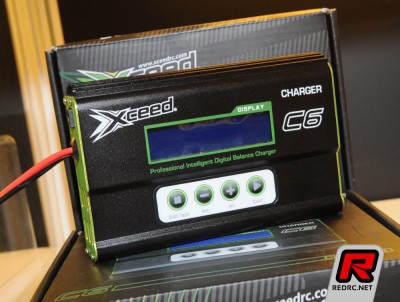 Other new products include a new C6 DC charger that can charge at 0.1 to 5A, discharge between 0.1 to 1A and can handle up to 6 LiPo cells and up to 15 NiMh cells. There is a new 1/8th buggy car stand, a LiPo RX pack for buggies like the S811, pit gloves in 3 different versions and finally a new range of lexan spray paints. Xceed also were showing off their other brand Dare RC, which are low cost RTR products in a wide range of scales and classes.
---