March 21, 2011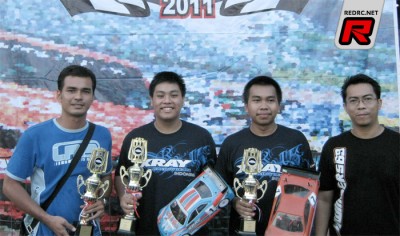 The 2nd round of 1/10 EP Indonesian national championship was held in Sunter International Speedway, which received new asphalt last week. 50 drivers attended this race which was divided into 2 classes, Stock 11.5 class and FD class. The weather was hot and we were sure it could be like that until the end of the race. In Stock qualifying, it was Bowie Ginting who took his Xray T3'11 to the TQ spot followed by Teddy Syach who switched to Tamiya after one year using Hot Bodies, 5 seconds behind Bowie. Dimas Ardian (Hot Bodies), Ronald kasengkang (Tamiya), and Suwardi Suliandy (Xray) completed the top 5 positions. Ade took the TQ spot in the FD class with his TOP Sabre followed by Faiza (TOP) and senior driver, Eka P, who drove his Teddy Syach' built FD chassis.
In A-Final leg 1, it was Bowie who held his lead, running away from Teddy Syach building up a 6 second lead until Syach got his car out of shape. Unfortunately for Chandra Yosef he took 3rd place from 10th place on the first lap, but his transponder wasn't working. It was a close run between Ronald, Dimas and Andhyka fighting for 3rd place. Unfortunately, Dimas had a problem with his Hot Bodies TCX and allowed Andhyka and Ronald to get away. At the end of the run, Bowie took the first place with 28 laps @ 8.08 followed by Teddy Syach with 27 laps @ 8.01 and Andhyka with 27 laps @ 8.11. In the FD class, Ade took the win followed by Faiza. Unfortunately, the rain started to come down at the start of the 2nd A-main leg of FD class. The race organizer decided to stopped the race and the overall results were taken from the first final.
Stock class results :
1. Bowie Ginting – Xray T3'11
2. Teddy Syach – Tamiya TRF 417
3. Andhyka Pranusatya – Xray T3'11
4. Ronald Kasengkang – Tamiya TRF 416X
5. Ronny Suwarto – TOP Photon
6. Rama Tribudiman – Tamiya TRF 417
7. Suwardi Suliandy – Xray T3'11
8. Dimas Ardian – Hot Bodies TCX
9. Asep Dian – Xray T3
10. Chandra Yosef – Xray T3
FD class results :
1. Ade – TOP Sabre
2. Faiza Murphy- TOP Sabre
3. Anton Mulyadi – TOP Sabre
Thanks to Bowie Ginting for the report.
---