March 27, 2011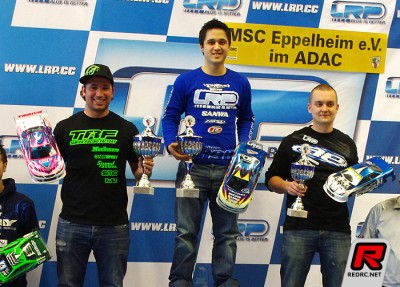 Pole sitters Ronald Volker and Eric Dankel have both converted their top qualifying spots at this year's LRP TCM in Eppelheim into wins, with 3 perfect A-mains each. In the modified class Ronald took all 3 A-mains by relatively small margins to secure the overall title, with 3 time World Champion Marc Rheinard claiming the runner up spot with 2nd place in both the 2nd and 3rd legs after a disastrous first leg that saw him retire just after the halfway stage. Completing the podium was ETS Rd4 winner Juho Levanen taking 2nd in leg 1 and backing it up with a 3rd in leg 2. In the pro stock class no one could come close to Eric Dankel who won leg 1 by a 9 second margin, leg 2 by over 4 seconds and leg 3 again by 9 seconds to cap off a perfect weekend for the German driver. Taking the runner up spot was Daniel Wohlgemuth, who recovered from a first lap retirement in the first final to come back and take 2nd in the remaining finals. Double ETS winner Martin Hofer completed the podium in 3rd with a 2nd and 3rd place finish in leg 1 and 2.
Modified A-main results
1. Völker Ronald (DE) – 2pts (Yokomo/LRP)
2. Rheinard Marc (DE) – 4pts (Tamiya/Speedpassion)
3. Levänen Juho (FI) – 5pts (Associated/Reedy)
4. Hagberg Alexander (SE) – 6pts (Xray/LRP)
5. Wilck Viktor (SE) – 8pts (Tamiya/Thunder Power)
6. Moore Andy (GB) – 10pts (Hot Bodies/Moorespeed)
7. Berntsen Adrian (NO) – 12pts (Xray/LRP)
8. Graversen Steen (DK) – 12pts (Awesomatix/Speedpassion)
9. Harper Elliott (GB) – 14pts (Tamiya/Speedpassion)
10.Südhoff Freddy (DE) – 15pts (Hot Bodies/LRP)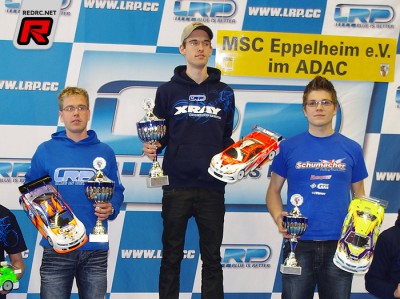 Pro Stock A-main results
1. Dankel Eric (DE) – 2pts (Xray)
2. Wohlgemuth Daniel (DE) – 4pts (Hot Bodies)
3. Hofer Martin (DE) – 5pts (Schumacher)
4. Ehrhardt Fabian (DE) – 6pts (Xray)
5 . Kaufmann Marco (DE) – 9pts (Xray)
6. Hilbert Moritz (DE) – 10pts (Hot Bodies)
7. Derin Özgür (DE) – 12pts (Hot Bodies)
8. Hagnauer Philipp (DE) – 14pts (Xray)
9. Mertke Christian (DE) – 15pts (Hot Bodies)
10.Wiebach Tobias (DE) – 16pts (Hot Bodies)
11.Wahl Tim (DE) – 18pts (Xray)
12 .Nähr Patrick (DE) – 21pts (Xray)
Full results can be found here.
Source: LRP [lrp.cc]
---