April 29, 2011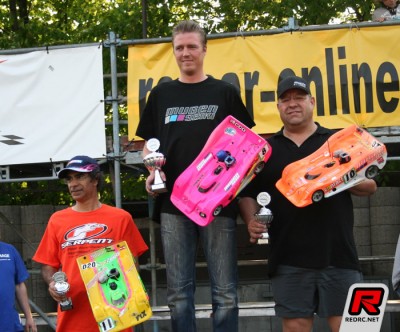 Steven Cuypers and Uwe Baldes made it a Mugen 1-2 at the first round of the Western German Championship with Serpent racer Alain Levy completing the podium on third. It has been a really great race weekend at Dormagen near Cologne with a total of 39 1/8 scale racers in both classes. Since years the number of entries hasn't been that high in the 1/8 scale category. The weather was just perfect all over the weekend but lots of farina made it difficult for the drivers especially at the beginning of the practice on Saturday when grip level was poor and cars turned to be covered by yellow farina. But finally grip increased and all racers got lots of practice over the day on the 273 meter long track which is known as "RC Monaco of Germany" because of its concrete walls and guard rails.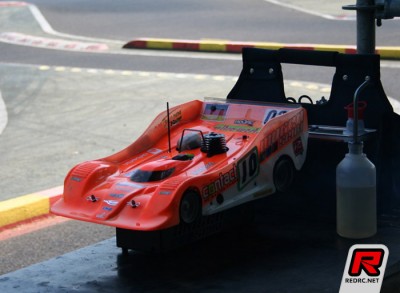 It was Belgian Steven Cuypers who left his mark in class 1 from his very first lap on the challenging circuit. With his Picco-powered Mugen MRX5 he achieved pole position among the twelve class 1 entries with 45,647 seconds for his three best consecutive laps – the new qualifying format in Western Germany. Second was Tobias Hepp (45,911), now racing an Orcan-powered Xray RX8, ahead of Rene Puepke (46,376) who has moved from Mugen to Serpent for the new season. Brotherly united Joerg Baldes (Mugen-Xceed/46,801) and Uwe Baldes (Mugen-Orcan/46,866) were ranked fourth and fifth and followed by Karl-Heinz Meister (Serpent-Xceed/46,908) and Christian Wurst (Mugen-Sirio/47,592).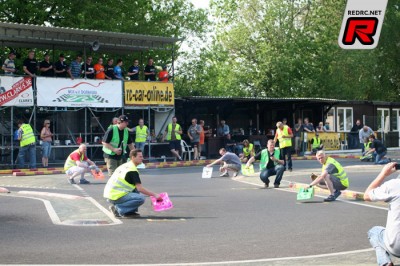 Following the decision to run no semi final, a 30 minutes main final with twelve competitors meant an action packed and exciting race which turned to be a real promotion for 1/8 scale nitro racing. Cuypers led the race from the start, made a change of his Enneti tyres at the halfway mark and was never in doubt to win this season opener with a clear advantage of five laps. The first driver to retire was Joerg Baldes who hit the barrier following a drivers error after 35 laps. Rene Puepke did 46 laps before he was stopped by a broken plug at his Xceed engine and with not working servos due to a flooded receiver. Also Rainer Rosskothen (Mugen) had to stop after 55 laps, all others made it to the chequered flag. But others went into trouble too, like Meister and Hepp because of several engine cut-offs, or Christian Wurst who run out of tyres and lost second position. Uwe Baldes as well as Alain Levy – both competitors at the W.C. one week ago in Florida – drove a concentrated race and made no mistakes with their cars and engines running faultlessly. Finally Uwe Baldes came on second with a two lap advantage over Levy to make a o1-2 for the W.C. winning MRX5.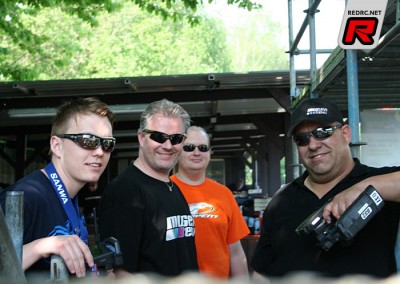 The result of class 1:
1. Steven Cuypers, 112 laps – Mugen / Picco / Enneti
2. Uwe Baldes , 107 – Mugen / Orcan / Contact
3. Alain Levy, 105 – Serpent / Reds / Xceed
4. Christian Wurst, 105 – Mugen / Sirio / Matrix
5. Frank Schewiola, 105 – Serpent / Xceed / Xceed
6. Tobias Hepp, 104 – Xray / Orcan / ATS
7. Jean-Pierre Rönicke, 101 – Serpent / JP / Shepherd
8. Karl-Heinz Meister, 100 – Serpent / Xceed / Xceed
9. Ingo Odenthal, 90 – Serpent / JP / Shepherd
10.Rainer Rosskothen, 55 – Mugen / Novarossi / RPM
11.Rene Puepke, 46 – Serpent / Xceed / Xceed
12.Joerg Baldes, 35 – Mugen / Xceed / Contact
Statistics: Serpent had the most chassis in the field with six cars followed by five Mugen and a lonely Xray. On the engine side there were four Xceed engines, two each of Orcan and JP, one each of Picco, Reds, Sirio and Novarossi, on tyres four cars on Xceed (Enneti), two each on Contact and Shepherd (Enneti) and one each on Enneti, Matrix, ATS and RPM (Matrix).
Class 2 showed up with surprising 27 entries. Pole position went to Dirk Drechsler (Mugen) with 48,392 seconds followed by Thilo Toedtmann (Serpent/48,900), Ralf Wacker (Serpent/48,906) and Daniel Toennessen (Mugen/49,051). But there are no direct qualifiers any more in the new general German format which follows the new EFRA format with all racers have to go through a sub finale and with five drivers bumping up from each sub finale.
In semi final B Matthias Meister, son of engine guru Karl-Heinz Meister, left Serpent fellow Carsten Pruessmann three laps behind on second. Markus Bastians, Martin Figge – all with Mugen – and Christian Roenicke (Serpent) finished on third, fourth and fifth and made it also into the finale. From semi finale A Dirk Drechsler, Reinhard Zick, Heinz Faigle – all with Mugen – as well as Sebastian Scheidweiler (Serpent) and Michael Woeste (Mugen) took the first five spots on their way into the finale.
In the 30 minutes finale only four cars made it to chequered flag. Drechsler led the field until two laps before the end but following a hard contact with a guard rail some minutes before he had so slow down with a heavily damaged car. Matthias Meister took his chance and passed Drechsler to celebrate a fine victory at his comeback even without practice on Saturday but with a S966 well prepared by his father. Eight seconds behind Meister a disappointed Drechsler finished second. Markus Bastians on third was five laps down and another five laps Martin Figge on fourth. Figge was the best racer using the Novarossi 5-port standard engine which is mandatory in the hobby cup class which is new in the Nitro West Masters.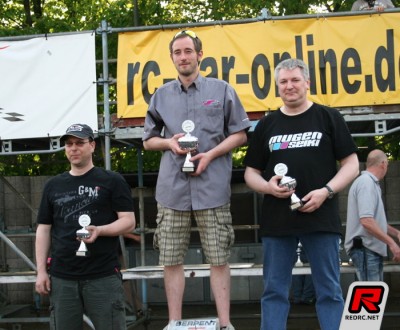 The result of the top 10 of class 2:
1. Matthias Meister, 98 laps – Serpent / Xceed / Xceed
2. Dirk Drechsler, 98 – Mugen / Novarossi / RPM
3. Markus Bastians, 93 – Mugen / Ninja / Matrix
4. Martin Figge, 88 – Mugen / Novarossi / UFRA
5. Heinz Faigle, 74 – Mugen / Novarossi / Shepherd
6. Reinhard Zick, 61 – Mugen / Reds / RPM
7. Michael Woeste, 54 – Mugen / SM / ATS
8. Christian Roenicke, 47 – Serpent / Mega / Xceed
9. Carsten Pruessmann, 46 – Serpent / RB / Xceed
10.Sebastian Scheidweiler, 24 – Serpent / Xceed / Xceed
Statistics: On chassis' it was six for Mugen and four for Serpent, on engines three for Novarossi, two for Xceed and one each for Xceed, Ninja, Reds, SM, Mega and RB, on tyres five for Xceed, two for RPM and one each for Matrix, UFRA, Shepherd (Enneti) and ATS.
Source: Nitro-West [nitro-west.de]
---