May 8, 2011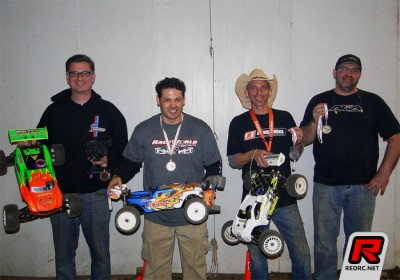 The third running of the Midwest Nitro series kicked off with round 1 at Leisure hours raceway in Joliet, Illinois. Despite poor weather relegating the event to the indoor track, that did not dampen spirits with a record 142 entries participating. Heated competition was found in all the classes. Pro Truggy started as a classic Jimbo vs. Sonny'O show as the two battled for top spot. With 5 minutes left in the main event Jimbo Kvidera, after retaking the lead from Ochoa, pits for fuel only to experience a spectacular fuel gun malfunction, leaving the top qualifier of the race a DNF with debris in his fuel tank. Letting Sonny Ochoa continue on with an easy win. Meanwhile Scott Shin, working his way through the field from a bump up starting spot, gains an impressive 2nd place. Kevin Bronner driving a solid race with only a couple bobbles late in the game which would drop him to 3rd.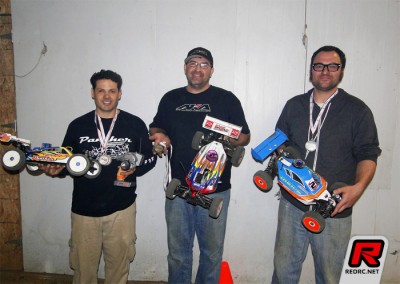 With Pro Buggy it was a bit of a three way between Sonny Ochoa, Jimbo Kvideria and Johnny Tomljenovic. Ochoa and Kvidera battled early while Johnny T waited in the wings to take his turn beating up on the top qualifier Ochoa for a good portion of the race. Johnny assumed the lead late in the 20 minute main, only to lose it to a hard charging Jimbo in the closing laps who takes the win. Tomljenovic 2nd and Sonny Ochoa 3rd.
In Intermediate Truggy the TQ Jon Lesczynski after some early challenges from Wade Dela, retakes a commanding lead and sure win only to flame out in the last few laps. Allowing Jason Hack to inherit the win after fighting his way though the field from his bump up starting spot. Jonski re-entered but was relegated to 6th, despite that he still finished just one lap down from the leader. In fact, just to show how competitive this race was, second thru sixth were separated by only 16 seconds! in this 15 minute finale. Jason Hack 1st , Wade Dela would stay 2nd and Scott Lesage would drive a consistent race to 3rd.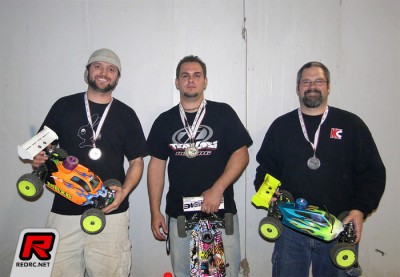 It would be the Intermediate Buggy that proved somewhat uneventful with the top qualifier Jon Stehlik leading all but one lap to take the win and lapping the field twice in the process. Chris Cherwin would cruise to second. But it would be Scott Tinkham that would use the momentum from his B-main win and bump starting position in the A to recover a podium spot in 3rd place.
With so many heats to run the crew at Leisure Hours worked tirelessly to run the event late into the evening. Showing why this track is home to multiple Nationals. Round 2 of Midwest Nitro series finds itself in the state of Wisconsin May 28, hosted by the Cheese city Extreme club in Monroe.
Source: Midwest Nitro [midwestnitro.com]
---