May 18, 2011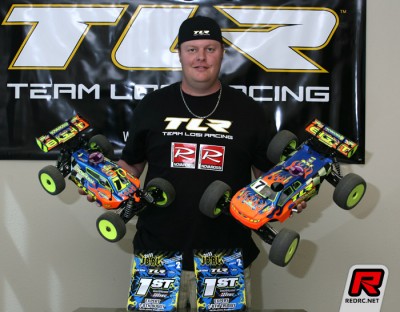 Saturday was the second stop on Southern California's JBRL series sponsored by Team Losi Racing. Many of the top driver's attended in preparation for next months ROAR 1/8th fuel Nationals.  Some of the nearly 200 entries included Adam Drake, Cody King, Mike Truhe, Dustin Evans, Matt Schreffler, Drew Moller, Travis Amezcua, Brent Thielke, Steven Hartson, Clint Wachter, Colby Poh, Dani Choi, Chad Bradley, Andy Smolnik and Jessie Robinson. In qualifying it was Team Losi Racing / Novarossi driver Adam Drake who set the pace in both of the expert 1/8th classes. The temperatures in sunny CA started to drop by the time the mains rolled around and the track started getting rough.
The start of the expert truck main was delayed two minutes as Drake hit another vehicle that was up side down during warm-up which severely bent a front shock shaft. Drake's pit crew wasn't able to repair the shock, but they did have enough time to bolt on another shock from Mike Truhe's buggy. At the start of the main Drake began to pull away from Bradley, Moller and King as they were in a heated battle. At the end of the 20 minute main Drake took the win by a half a lap over King and Bradley.
In the buggy final Drake, Amezcua and King start to break away from the rest of the field.  King then suffered a flameout, but continued on to finished sixth.  Drake led from start to finish and won the 20 minute main followed by Amezcua in second and Bradley rounding out the top three.
1/8th Expert Buggy
1. Adam Drake (TQ) – TLR/Novarossi/Nitrotane/Losi Digit
2. Travis Amezcua – Mugen/Ninja/Sidewinder/AKA
3. Chad Bradley – JQ/OS/Werks/PL
4. Colby Poh – TLR/Novarossi/Nitrotane/Losi Digit
5. Mike Truhe – TLR/Nvision/Nitrotane/Losi Digit
1/8th Expert Truck
1. Adam Drake (TQ) – TLR/Novarossi/Nitrotane/Losi Kingpin
2. Cody King – Kyosho/Orion/Byron's/AKA
3. Chad Bradley – TLR/OS/Werks/PL
Source: TLR [tlracing.com]
---