May 4, 2011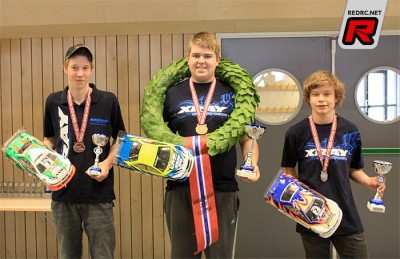 The 2011 Norwegian Electric touring Championship was held in Spydeberg recently, a venue that has played host to a lot of races during this indoor season and Adrian Berntsen sent us this report. For a long time before this event, it looked liked it wouldn't be any Norwegian championship for the 1:10 Touring Car classes since there was only 10 drivers signed up for the race in each, while the Norwegian Federation rule was a minimum of 15 drivers signing up to make it a official Norwegian Championship. Luckily for both 1:10 Modified class and 1:10 Stock class, the Norwegian Federation allowed a minimum of 10 drivers to still make it an official Norwegian Championship. In the 1/12th scale class this was no problem at all, as approximately 30 drivers signed up, including three Swedish drivers who made their way across the border. This was because they were extremely satisfied with the arrangement of the Nordic Championship earlier this season.
My biggest problem for this race was to keep motivated for driving the last indoor event, as many other drivers had found their way over to Miami to compete in the 1:8th scale IFMAR World Championship. So in between every qualifications and finals I followed live feed from the US on the computer. Xray was presented with 50% of all the drivers (5 out of 10), Adrian Berntsen (me), Petter Berntsen, Joakim Nicolaisen, Marius Nicolaisen and Petter Solvberg. The qualification system in use was the round-by-round-system with 3 out of 5 as counting.
During the qualification I won the first 4 rounds, which gave me the TQ spot in the finals. It was a big battle for second place all the way to the last qualification round as both Petter Berntsen and Joakim Nicolaisen could take the 2nd place for the final. After 4 out of 5 rounds Petter had three 2nd places as counting while Joakim had one 2nd place and two 3rd places. Both Petter and I faced problems and had to retire in the fifth and last qualification round, so this made Joakim take the win in this round allowing him to claim the 2nd spot from Petter going into the final. The always unlucky Marius Nicolaisen got a clean run in this round to take 2nd place and qualified in 4th spot overall. This made Team Xray to take all top 4 spots after qualification:
Top 10 qualifiers
1. Adrian Berntsen
2. Joakim Nicolaisen
3. Petter Berntsen
4. Marius Nicolaisen
5. Kjell Gunnar Guttormsen
6. Christer Antonsen
7. Petter Solvberg
8. Goran Langsholt
9. Gunnar Andersen
10. Tor Erik Wold
A-main leg 1
Before this final we knew that it would be a big battle for the top 5 spot between drivers like me, Joakim, Petter, Marius and Kjell Gunnar. As the start signal went on, I managed to pull away from the field since Petter and Joakim crashed during the first few laps. This allowed me to build a big lead, while Marius Nicolaisen overtook the 2nd place and with Kjell Gunnar in 3rd. Unfortunately for Marius he made a mistake in the middle of the race costing him not only 2nd spot, but he also dropped all the way down to 5th. Joakim and Petter started to catch up one driver after the other, with Joakim managing to go all the up to overtake the 2nd spot from Kjell Gunnar with one minute left on the clock. In the end of the first exciting final, I won approx. one lap in front of Joakim Nicolaisen in 2nd, Kjell Gunnar in 3rd , Petter Berntsen in 4th and Marius Nicolaisen (dropped down from 2nd) in 5th.
A-main leg 2
In this final we got a clean start, and also this time I quickly managed to get away from the rest of the field. Since Joakim already had one 2nd place from the first final, while Petter only finished 4th, Petter had to push maximum to get by Joakim to prevent Joakim to take his second 2nd place finishing in the event. Since I was all by my own, I could focus on driving without doing mistakes and cruise to victory becoming the Norwegian Champion for my fourth time in the last four years. Joakim and Petter fought all the way to the end, and when the clock passed the five minute-mark, Joakim finished 2nd once again, only 2 tenths of a second in front of Petter Berntsen in 3rd.
A-main leg 3
I was already crowned the 2011 Norwegian Champion and as I always do I drove the last final as well to make the fight for 2nd and 3rd as fair as possible. Petter had to win this final to take 2nd place overall, while Joakim only had to finish in front of Petter or hope that I would win this leg as well, to secure him the 2nd place overall. As the final went off, everything looked to be just the same as the last final. I managed to pull away from Joakim and Petter and the rest, while Joakim and Petter were fighting for positions. Joakim managed to stay in 2nd until he made a mistake and went a little too wide in a corner, to let Petter easily pass him. Unfortunately for Joakim, he rolled in the same corner as he and I had an accident when I was lapping him. But anyway, I finished 1st also in this final, while Petter finished 2nd and Joakim 3rd. This put the young talented Xray driver in the 2nd spot overall which is his best ever result in the modified class here in Norway. Petter on the other hand, was disappointed by finishing 3rd as he felt he had the pace to finish higher up on the list. But still, it was a good result for Xray, as all the three podium places went to Team Xray.
Top 10 finishers overall
1. Adrian Berntsen (TQ)
2. Joakim Nicolaisen
3. Petter Berntsen
4. Kjell Gunnar Guttormsen
5. Marius Nicolaisen
6. Christer Antonsen
7. Goran Langsholt
8. Petter Solvberg
9. Gunnar Andersen
10. Tor Erik Wold
Thanks to Adrian Bernsten for the report.
---