May 18, 2011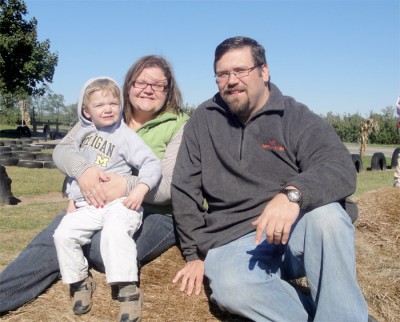 We received word from Adam Drake about the Bill Bridges Benefit race that will take place from the 24th to the 25th of June at 'The Track' in Carleton, Michigan. The race has been organised to help raise money to pay for medical expenses following Bill's diagnosis with colon and liver cancer. A long time racer, currently running for TLR Team Losi Racing, Bill is married to Chrissy and has one son, Brayden, who is three years old. Bill recently had a cancerous tumor removed from his colon and has just started chemo for his liver, but with no medical insurance the bills can grow pretty fast. All proceeds from the race will go to Bill and his family and in addition Adam Drake and Dustin Evans have donated a TLR 8ight 2.0 and TLR 22 respectively for which you can buy raffle tickets on eBay.
Bill Bridges Benefit Race (100% of proceeds go to Bill and his family)
Friday 6-24-11 Practice 11am – 8pm $10
Saturday 6-25-11 Race-Open at 7am racing starts at 9am $20 per entry.
Classes:  All classes nitro and electric (minimum 5 makes a class)
Location:  "The Track" 160 West Newburg Road, Carleton, Michigan 48117
150' x 100' hard packed clay, drivers stand 32' x 8' x 10'H, big pit lane
Bill's close friend and TLR teammate Adam Drake will be in attendance!!
Raffle at Race for Door Prizes:  Items donated from Horizon/Spektrum, Losi/TLR, local tracks and hobby shops with more to come.  (tickets sold at race $2 each)
BBQ & Bake sale on site!
eBay Raffle: Adam Drake's 8ight 2.0 Buggy and Dustin Evans's TLR 22 – tickets $10 each purchases on eBay, drawing will be held at  "The Track" 6-25-11 (need not be present to win)
Adam's TLR 8ight 2.0 kit includes the following items:
– All the hop-ups that Adam runs including titanium turnbuckles, shock mounts, and kingpins.
– Aluminum inclined spindles and castor blocks.
– Adjustable front and rear pivot blocks.
– Hitec servos.
– Nova Rossi engine, pipe and header.
– Spektrum receiver.
– Losi lipo battery and regulator.
– Autographed body.
– Losi tires and wheels.
This eBay auction can be found here.
Dustin's TLR 22 includes the following items:
– Car comes complete with electronics including Spektrum servo, receiver and Losi 96mm battery pack!
– Autographed body.
– Losi tires and wheels.
This eBay auction can be found here.
---