May 3, 2011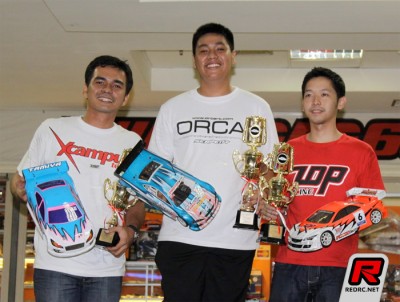 The 3rd round of Indonesian 1/10 EP National Championship was held on Winners69 track, which is located in Miko Mall, Bandung. The race was open to 1/10 Stock Touring 11.5 and front wheel drive classes and the track surface was indoor carpet with an average best lap of 9 seconds with a 1/10 TC stock car. In the 1/10 Stock Touring class, it was provisional standings leader Bowie Ginting that toped qualifying taking his Xray to the TQ spot with the only 33 lappers of the day on 5.03. Second went to Chandra Yosef, who brought his Xray around 32 laps @ 5.03, while last year's National Champion Teddy Syach put his Tamiya on 3rd place, 2 seconds behind Chandra. Dimas Ardian (Hot Bodies) and Rama Tribudiman (Tamiya) completed the top 5 qualifying result. While in FWD class, Ade drove his TOP Sabre to the TQ Position with the only 28 lapper on the class.
In the 1st leg of 1/10 Stock touring A-main Bowie held his lead until the 3rd minute when he rolled his car on a curb gifting Syach the lead position. The lead changed back at 6 and a half minutes when Bowie successfully re-passed Syach. Bowie won leg 1 followed by Syach, Ronny Suwarto (TOP), Irawan Situmorang (Tamiya) and Chandra Yosef. In leg 2, Bowie cruised the lead since there are crash between other drivers on the first lap. Teddy Syach who was in second pushed his Tamiya too hard and and made a mistake causing his front suspension to break. Bowie cruised to the checkered flag to take the overall event win, followed by Ronald Kasengkang (Tamiya), Rama Tribudiman, Asep Dian (Xray) and Ronny Suwarto. In leg 3, Teddy Syach took the lead on the 5th lap when Bowie hit the curb and fell back to last position. Bowie made a recovery passing Ronny for 2nd place. At the end of leg 3, Syach was delighted to win the 3rd leg, followed by Bowie and Ronny. The overall results showed Bowie won the race followed by Teddy Syach and Ronny Suwarto respectively.
1/10 stock touring class result:
1. Bowie Ginting – 20 pts (Xray/Orca/Orca/Futaba)
2. Teddy Syach – 19 pts (Tamiya/LRP/Team Powers/Futaba)
3. Ronny Suwarto – 16 pts (TOP/Tekin/Orca/Sanwa)
4. Ronald Kasengkang – 14 pts (Tamiya/LRP/Speed Passion/Sanwa)
5. Irawan Situmorang – 13 pts (Tamiya/HobbyWing/Speed Passion/Sanwa)
6. Dimas Ardian – 12 pts (Hot Bodies/LRP/Team Powers/KO Propo)
7. Rama Tribudiman – 12 pts (Tamiya/Tekin/Team Powers/Futaba)
8. Asep Dian – 11 pts (Xray/Orca/Orca/Futaba)
9. Chandra Yosef – 11 pts(Xray/Tekin/Speed Passion/KO Propo)
10.Sewaka Ramadhani – 3 pts (Xray/Orca/Orca/KO Propo)
In the FWD A Main class, Ade won the first 2 legs to secure the victory of the race. Overall results showed Ade won, followed by Jeffry Yap (TOP) and Faiza Murphy (TOP).
Front Wheel Drive Class result (Top 3):
1. Ade – 20 pts (TOP/LRP/Futaba)
2. Jeffry Yap – 19 pts (TOP/LRP/KO Propo)
3. Faiza Murphy – 17 laps (TOP/LRP/Sanwa)
Thanks to Bowie Ginting for the report.
---