May 21, 2011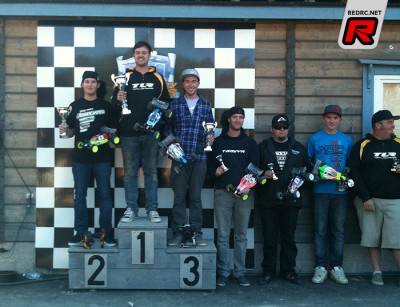 The 1/10th electric offroad Worlds warmup takes place this weekend in Vaasa, Finland ahead of the main event which will be held in late July. After some days of practice on this challenging hard packed clay track, the 2wd class qualifying and finals took place today, with 4wd being run tomorrow. Qualifying saw Kyosho driver Jared Tebo take the pole position ahead of Losi driver Darren Bloomfield, with the pair tied on points, Jared taking it due to a faster time. Associated driver Ryan Maifield lined up 3rd with Mike Truhe and Ryan Cavalieri completing the top 5. In the finals it was former World Champion Cavalieri that took the victory in leg 1 ahead of Bloomfield, with Swedish Kyosho driver David Ronnefalk in 3rd. Leg 2 saw Bloomfield go one better and take the win ahead of TQ Jared Tebo, while Cavalieri came home in 3rd, setting up a final leg showdown between 3 drivers. Leg 3 saw Darren come through to win the decider in front of Tamiya man Lee Martin, with Jared Tebo taking 3rd, the result giving the TLR22 buggy the win with Bloomfield, with Ryan Cavalieri with his B4.1 in 2nd and Jared Tebo with the Kyosho chassis taking the final podium spot in 3rd.
Final results
1. Darren Bloomfield (TLR) – 2pts
2. Ryan Cavalieri (Associated) – 4pts
3. Jared Tebo (Kyosho) – 5pts
4. Lee Martin (Tamiya) – 6pts
5. Ryan Maifield (Associated) – 9pts
6. David Ronnefalk (Kyosho) – 11pts
7. Mike Truhe (TLR) – 11pts
8. Neil Cragg (Associated) – 11pts
9. Jörn Neumann (Durango) – 15pts
10.Brent Thielke (Associated) – 17pts
View all the results here.
Image: Pierre Ronnefalk
---