May 17, 2011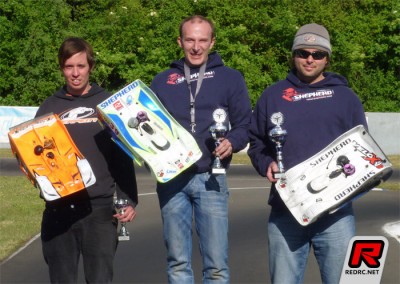 Last weekend the second round of the Central German 1/8th Scale Championship was held at the MSC Kirchhain track 100km north of Frankfurt. It was a good weekend for Team Shepherd as we took the double in the expert class as well as in the amateur class. Qualifying in the morning was dry, while rain showers effected the finals in the afternoon.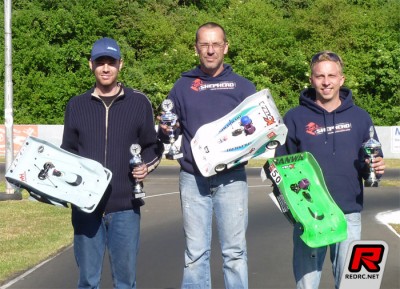 At the start of the 30 minutes Amateur final the track had dried, but just 10 minutes into the race it started to rain again. The running order at that time was Alex Mehl followed by the Shepherd/Novarossi duo of Armin Weihert and Florian Wagner. Weihert was the first one to change to rain tyres and took over the lead quickly. Also Florian Wagner changed to rain tyres but he couldn't close the gap to Weihert so he decided to retire after some minutes as all other finalists except of Weihert already stopped when the rain had started. For the rest of the final Armin Weihert was cruising to an unchallenged victory, Florian Wagner was ranked second in front of Alex Mehl on 3rd.
As the weather changed quickly the sun came out and the track was dry again at the start of the Expert final. From the beginning of the 30 minutes final it was a close battle between the Shepherd factory driver Oliver Mack and team leader Patrick Schäfer with the advantage slightly on Schäfer's side as he planned to do one pitstop less despite both using the new Novarossi Flash.21PTS. By the middle of the race Schäfer had a lead of nearly one lap but then he collided with a back marker and damaged his body in the front. The repairing took a while and Mack passed him for the lead. Schäfer tried to close the gap on Mack, but another collision in the pitlane ended all hopes for the victory. Mack took the victory 2 laps in front of Schäfer with Jörg Wäldle finishing 3rd another 5 laps down although he was out fuel two laps before the end of the race.
Source: Shepherd [team-shepherd.com]
---