May 7, 2011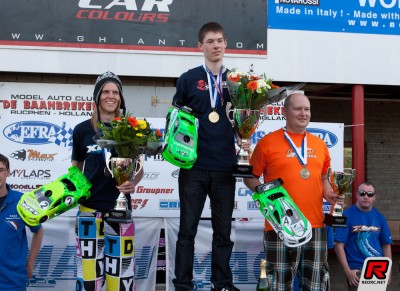 The 2011 EFRA European 1/10th scale 200mm 'B' Championships was held this week at the fast and smooth Rucphen track in the Netherlands, a late venue change after the original host, the MACH in Heemstede, had problems with noise and were unable to run the event. Some 81 drivers from around Europe attended the event and with 4 rounds of qualifying, two on Thursday evening and two on Friday morning, it was Dutch National champion Pedro Rombouts that took the top qualifying spot with his Xray ahead of Shepherd driver Patrick Nähr in 2nd, the top 2 separated by less than a second and well clear of the rest of the field. Adam Catchpole took 3rd spot ahead of Daan Jacobs in 4th.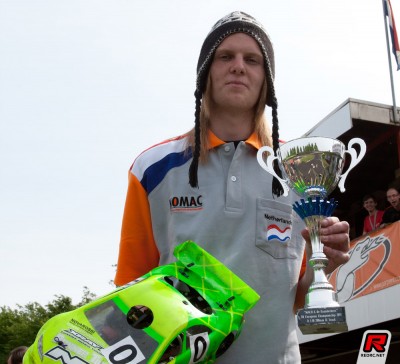 With the new EFRA ruling that sees no more direct qualifiers as in previous years, the top drivers all had to run at least the semi final to secure their place in the main event. The 20 minute finals saw Patrick Nähr win the first semi, almost a lap ahead of the Serpent group lead by René Püpke, Daan Jacobs and Gergely Csekö, with Maxime Favrelle in 5th. In the second semi final it was TQ man Pedro Rombouts that won, closely followed by Kevin Rasquin in 2nd, Philip Krause in 3rd, Thomas Günsel in 4th and Simon Woods in 5th. With Nähr's winning time faster, he would start from the pole position.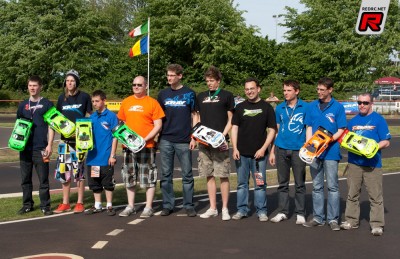 A-main Starting order
1. Patrick Nähr – Germany
2. Pedro Rombouts – Netherlands
3. Kevin Rasquin – France
4. René Püpke – Germany
5. Philip Krause – Germany
6. Daan Jacobs – Netherlands
7. Gergely Csekö – Hungary
8. Thomas Günsel – Germany
9. Maxime Favrelle – France
10.Simon Wood – United Kingdom
The 45 minute final saw a race long battle between the top 2 starters Patrick Nähr and Pedro Rombouts, which ultimately saw the German Shepherd driver come out on top, winning ahead of Rombouts by less than a second. Race winner Nähr was very happy with his race, despite it being hard fought and uncertain right up to the checkered flag. The German had a flame out around 13 minutes from the end and didn't expect the engine to fire up again. it did, but resulted in a bad pit stop which resulted in a stop an go, which was the most scariest moment for him.
In 2nd place, National champion and TQ man Pedro Rombouts had a good race, but was disappointed to only be 1 second behind the winner at the end. Enjoying the race, his fuel stop strategy proved to be costly as he had an extra stop over Patrick, dropping him behind the number 1 in the last one and a half minutes and ultimately costing him the win.
The final step of the podium went to René Püpke, the Serpent driver was the only front runner to make a tyre stop. His first set of tires however were not very good and after 10 minutes his car was becoming hard to drive. He also struggled with his strategy as he had to time his tire stop and fuel stops properly. Despite these problems, he actually led the race for a short time, which he admitted made him very nervous. René finished just over a lap back on the leading pair and just under a lap clear of 4th placed Maxime Favrelle.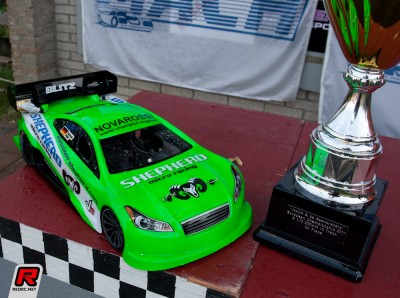 Final results
1. Patrick Nähr – 176L 45:03.587
2. Pedro Rombouts – 176L 45:04.140
3. René Püpke – 175L 45:12.790
4. Maxime Favrelle – 174L 45:09.866
5. Thomas Günsel – 173L 45:06.329
6. Daan Jacobs – 173L 45:13.261
7. Kevin Rasquin – 170L 45:14.415
8. Simon Wood – 152L 45:09.370
9. Philip Krause – 149L 45:07.536
10.Gergely Csekö – 129L 44:39.888
Full results can be found here.
Image Gallery
Thanks to Ruben D'Arco for the report and photos
---