May 11, 2011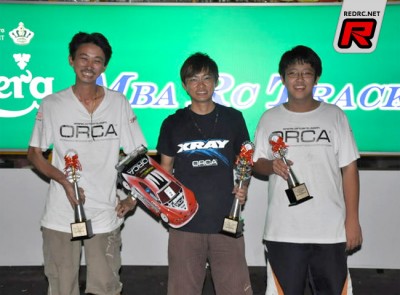 Last weekend saw the heavy weight racers from Singapore and Malaysia congregate to race at the inaugural Minyak Beku Agrotourism Resort Race (MBA CUP). The inaugural race for this venue is also a very unique venue as the track is right in the Resort compound, right beside the sandy beach. The weather was very good from the morning with the sunny sky shining down on the track right until the end of the day.
This race is very much anticipated with almost 60 racers in the open EP category as there are some big names that are present like Nicholas Lee, the protégé to Masaki Hirosaka, former Kyosho sponsored driver. Also present are PY Tang, Jackie Siow and Azri Amri, all of them, A-Main finalist in the open brushless class at the recently held TITC 2011. Most if not all of the top 10 drivers from Malaysia and Singapore are present at this race. I know it will certainly be a very very tight race as the track is considered medium size with a very technical infield and a straight of about only 120 feet.
After the 1st qualifying, it is certain that Nicholas Lee would be the man to beat as he storms to the 1st and only 22 lapper with his Speed Passion ESC and 5.0T motor powering the Tamiya 417. The rest of the field could only manage 21 lappers with PY Tang coming closest with 21 lap 5:00:031, missing the 22 lapper by 31/1000th of a second in his Xray Xray T3'11 with full ORCA internals with an ORCA Q QX-1 LE 11.5T motor. Jackie Siow using the Xray T3'11 and Azri Amri's Yokomo BD5WX also powered by the same ORCA internals but with the only difference coming in the form of motor as both opted to use the 10.5T RX-2 motor came to 2 seconds of achieving a 22 lapper with only 1/10th of a second separating the two of them with Jackie Siow leading. Team ORCA's young and up coming driver, Siow WoonFong, manage to achieve 5th position overall with his Sakura Zero racer in the qualifying. Another note worthy driver Azahar, who has not been racing for the last few year, driving also the BD5WX with ORCA internals with the venerable RX-2 10.5T achieved 6th position. 7th position goes to Norazam, our veteran racer, also driving the 417, with Dualsky ESC and 10.5T Z5 motor. 8th is driving his Xray Xray T3'11, Mr. EC Wee from Singapore, using ORCA internals, but with a 5.5T RX-2 motor. 9th and 10th goes to Shahrin in his ORCA powered BD5WX and local boy James Ki with his Xray T3'11 powered by Speed Passion ESC and his Dualsky Z5 motor. With the 2nd to 4th position separated no more than 2.5seconds and 5th to 10th position separated by less than 3 seconds. Now we are certain that the finals would be very very tight with the track being a medium track it will definitely be extremely exciting.
Qualifying Results:
1. Nicholas Lee
2. PY Tang
3. Jackie Siow
4. Azri Amri
5. Siow WoonFong
6. Azahar
7. Norazam
8. EC Wee
9. Shahrin
10.James Ki
Leg 1 of the A-Finals started with Nicholas having a good start, Jackie bumped into PY causing to retire as PY was banged around at turn 1. Giving Azri and Azahar  the 2nd and third position, only to have Azahar bumping Azri out of 2nd and only for Azri to take back the position after the 1.5 minute mark, with the young WoonFong following closely. Azri's luck ran out again after a lap as he tried a move on Nicholas loosing 2nd and nearly loosing 3rd while Jackie managed to pass WoonFong to get into 4th behind Azri after 2 minutes. Azri very quickly got his rhythm back to pass Azahar once again to get into 2nd, while Nicholas managed to have a 2 second gap at that point in time, while Azri once again tried a move on Nicholas after 2 laps, which caused himself to flip. Nicholas got a good gap to Azahar while Jackie took 2nd from Azahar and later Azahar loosing 3rd to WoonFong as well. The race would end with Nicholas taking Leg one with Jackie 2nd, WoonFong 3rd.
Leg 2, this is one of the worst start that we have seen with these A-Main drivers. PY and Jackie all made the move on Nicholas, while causing Nicholas to get stuck, then the mayhem from behind, allowing James Ki, WoonFong, Shahrin and Norazam to take 3rd, 4th , 5th and 6th respectively while Nicholas fell to 7th. Nicholas got into another tangle at the 2 minute mark causing him to fall to 9th. Jackie followed PY and tried to make a move on him, which saw him hit a barrier, but he was lucky to keep 2nd, while James Ki has lost his position to WoonFong, Azri Amri and Shahrin respectively to 6th. Nicholas kept his cool to get back to 6th while Norazam passed James Ki to go into 7th.  The end of Leg 2 came to an end with PY 1st, Jackie 2nd and WoonFong 3rd.
Leg 3, will be the last final as Nicholas and PY both have a win with Jackie having scored two 2nd places and WoonFong having an outside chance with two 3rd places. This time, refereed were put in place to prevent the mayhem that caused Leg 2 to be not like an A-Main race. This time the start was more like A-Main, with Nicholas, PY, Jackie, WoonFong and Norazam taking 1st, 2nd, 3rd, 4th and 5th, only with Azri falling to 6th. Half way thru the 1st lap, WoonFong got tagged by Norazam and was stuck giving Azri 5th place, while he immediately took back 4th place from Norazam while Azahar closes right in to 6th. WoonFong retired due to some technical problem at the 1 minute mark. Nicholas went ahead to lead PY with a 2 sec lead with Jackie a more distant 3rd with Azri 4th and Azahar 5th after passing Norazam. Nicholas continue to lead PY and at the 2 minute mark PY tried a move on Nicholas but failed and lucky for PY, Jackie is too far back to capitalize on his mistake. PY manage to be at the back of Nicholas only after 3 laps with his superior straight line speed and with the punch that he is able to generate out of every corner. Nicholas was having a tough time defending from PY, compromising his lines in and out of every corner and finally at the 4th minute mark, PY made a move and was successful this time round. Nicholas followed thru in second place only to hit the divider and caused his car to be damage beyond repair while moving Jackie to 2nd and Azri to 3rd after 3 laps behind PY. Now the battle for 2nd is on with only about 40 seconds to go with Azri rapidly closing in on Jackie, with 30 seconds to go, Azri tried a pass but the move did not stick and Jackie continues to lead from Azri. Azri, did not give up and continued to make several move on Jackie but Jackie held tough and kept Azri back right up to the last second when Azri made his final move, but again it failed and the finishing order is PY 1st, Jackie 2nd and Azri 3rd.
After Leg 3, the final standing is as follows:
1. PY Tang – Xray T3'11
2. Jackie Siow – Xray T3'11
3. Siow WoonFong – Sakura Zero
4. Azri Amri – Yokomo BD5WX
5. Nicholas Lee – Tamiya TRF417
6. Azahar – Yokomo BD5WX
7. Norazam – Tamiya TRF417
8. Shahrin – Yokomo BD5WX
9. EC Wee – Xray T3'11
10.James Ki – Xray T3'11
Tha
---