May 3, 2011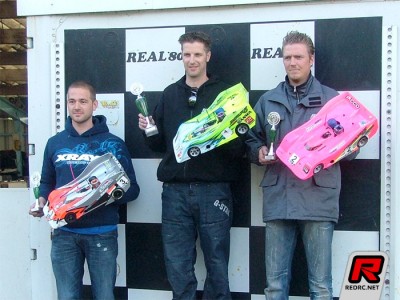 The second round of the Dutch 1/8th national championship was held on the very bumpy track at REAL80 in Groningen. With the free practice already started on Friday you could see many people struggling to find the right setup but on Sunday most drivers had found it. Luckily the weather was perfect so there was no need to expect rain. After the first round of qualifying in the NK class it was Steven Cuypers surprising everyone by taking the lead but in the next round it was Rick V taking over at the top and he never relinquished it, ending on pole followed by Steven Cuypers, John Ermen and Arie Manten. At the start Rick struggled for grip but after just 2 laps it came back and he could get his head down. John Ermen was kicked out to the grass and had to climb up from behind. After the 30 minutes it was Rick V taking the win followed by Steven Cuypers and John Ermen on 3rd, the same 3 drivers that were on podium in the last race.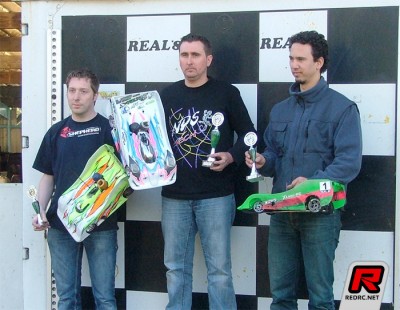 In the NOMAC Class it was a battle between Frederick Haaxman and William Lefèvre for pole position but eventually it was Frederick taking it followed by William, Arco de Jong and Niels Reijnders. In the final Frederick took the lead, but with a different pit stop strategy, a stop and go penalty and a slow tire change the lead went over to William but Frederick was pushing to the end. William won the race with less than a half lap in front of Frederick, the stop and go was just enough for him to lose the race and in 3rd it was Peter Ende who drive a steady and flawless race.
Thanks to Roelof Tooms for the report and photos.
---