May 24, 2011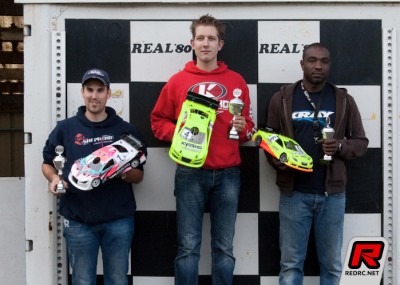 Last weekend saw the 2nd round of the Dutch 1/10th scale nationals held in the northern part of the Netherlands, in Groningen. A long journey for most of the visitors, it always proves to be a worthy trip to the technical but bumpy track of the REAL'80. Saturday's training saw a sunny and dry day with lots of drivers adapting the setups to the bumpy ride. After a nice day of training, a barbeque was organized to enjoy the weather even more.
Unexpectedly, the Sunday started with a wet but slowly drying track. With the final round of heats being dry, it saw most competitors putting down the best laps in that qualification round. The NK class qualification saw Ricardo van Dam beating all the 16 competitors by driving the 3 laps in 49.624, closely followed by Perdo Rombouts with 49.972.
The 30 minute final was hard for a lot of the drivers, as small mistakes in the track made it hard for everybody to keep the concentration. Showing real pace was Kyosho driver Sander Borghoff who took the win, while 4 laps behind was Jurmin Etnel with 101 laps. Ricardo van Dam had some small engine troubles but still managed to finish 4 seconds behind Jurmin to take 3rd spot.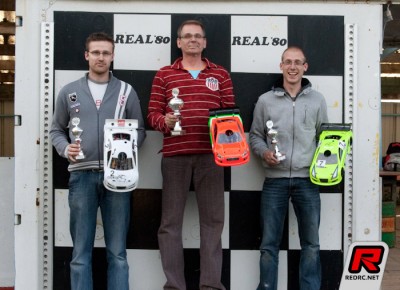 With only 7 competitors in the NOMAC class, qualification was only a formal matter for some, but also a first run on the track, as some only arrived on Sunday morning. Driving only the last qualification seemed the way to go in the NOMAC class, as the top 3 qualifiers only drove the last heat. Making the best of it was Arne Schober who would start on pole for the 30 minute final.
In the final it was Marcel Haenen who took 3rd spot only one lap behind section chairmen Bart van de Water. All this was of no interest to Jan Willem Gons who again showed that consistency is always the key in racing as he took 1st spot in a "easy" win.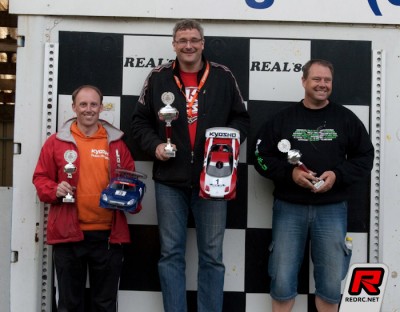 In the Kyosho Sport, 11 contenders showed up with Gaston van Kleef making his way onto the pole position for the final. The 15 minute sub-final was won by Jan Timmer. In the 30 minute final, it was again Gaston van Kleef who managed to win without a lot of troubles. In 2nd place it was Hans Westerveld and on 3rd spot it was Mark Been.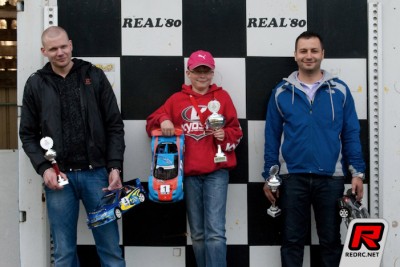 With only 6 drivers in the Kyosho Start class, qualification was only important to get a good starting position for the finals. Mats van Kleef took pole again like he did on the first national. The 15 minute final was also won by the dominant Mats van Kleef. In 2nd place it was Danial Khalesi who came from 3rd spot on the grid, while the final podium position went to Danny Kunst who came from 4th spot.
Thanks to Ruben D'Arco for the report and photos.
---