May 17, 2011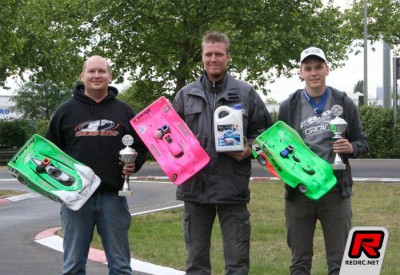 Second race, second win: Belgian Steven Cuypers has dominated round two of the Western German Championship 1/8 nitro on-road at Oberhausen like he did three weeks ago at the season opener at Dormagen. Again the Mugen team driver achieved pole position, fastest lap and victory. Second spot on the podium went to Tobias Hepp (Xray) ahead of René Puepke (Serpent). 40 entries were registered for this race weekend at the mecca of rc racing in Western Germany. Finally 16 racers competed in class 1 and 22 in class 2. Practice day was interrupted at lunch time by a rain shower and on race day both finals were delayed as a result of a short shower.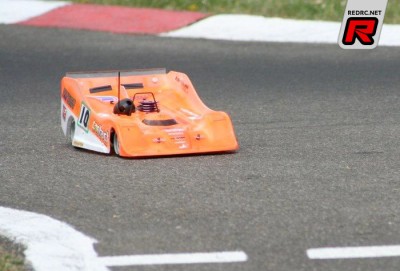 Mugen racer Uwe Baldes, second at round one at Dormagen, did the fastest lap during practice with 11,666 seconds at the 234 meter track at Oberhausen and confirmed his performance in the first heat with 35,657 seconds for the three-lap-addition, followed by Cuypers with 35,958 and Hepp with 36,242. Once again the new three lap mode brought additional thrill into qualifying. In heat two Baldes pushed his MRX5 to 35,546 to stay in front of Cupyers (35,806), Hepp (35,829), Karl-Heinz Meister (Serpent/36,025), Christian Wurst (Mugen/36,471) and Michael Salven (Serpent/36,602). Cuypers was able to counterattack in heat three to take the lead by one tenth with 35,446. Heat four saw Salven back to speed, jumping to third with 35,661. Finally it was Cuypers (35,446) leading the heats ranking in front of Baldes (35,546), Salven (35,661), Hepp (35,829) und Meister (36,001). The tope five were followed by Wurst (36,250), Puepke (36,727), Jean-Pierre Roenicke (Serpent/36,788), Frank Schewiola (Serpent/37,092) and Alain Levy (Serpent/37,170).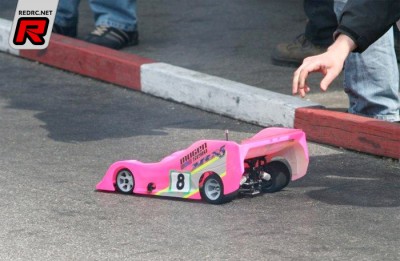 According to the 2011 rules all 16 racers had to go through the semi finals (20 minutes) with five drivers from each sub final stepping up to the final race. Hepp, Levy, Baldes, Roenicke and Wurst made their way from the B semi and Cuypers, Puepke, Salven, Meister and Schewiola from the A semi which turned out to be the faster one. Cuypers took an early lead into the 30 minutes final with Hepp, Puepke, Baldes and Schewiola behind. Unfortunately this final emerged to a race with blistering fights and quite a few incidents. The first one to retire was Michael Salven who was really peeved about some racers driving but finally had to stop with a receiver malfunction after 16 minutes. Two minutes later the race of Karl-Heinz Meister came to a bad end when his 966 was pushed into the fence by a Serpent fellow. Another minute later a broken engine stopped Baldes. All others made it to the chequered flag with Cuypers leading the field from start to finish but running out of fuel once. Hepp and Puepke finished second and third, one lap respectively three laps down.
The result of class 1 final:
1. Steven Cuypers, 138 laps – Mugen / Picco / Enneti
2. Tobias Hepp, 137 – Xray / Orcan / ATS
3. Rene Puepke, 135 – Serpent / Xceed / Xceed
4. Christian Wurst, 132 – Mugen / Sirio / Kiss
5. Jean-Pierre Roenicke, 126 – Serpent / Novarossi / Shepherd
6. Alain Levy, 125 – Serpent / Techpower / Xceed
7. Frank Schewiola, 124 – Serpent / Xceed / Xceed
8. Uwe Baldes , 81 – Mugen / Novarossi / Contact
9. Karl-Heinz Meister, 73 – Serpent / Xceed / Xceed
10.Michael Salven, 69 – Serpent / Xceed / Xceed
Statistics: Chassis – Serpent 6, Mugen 3, Xray 1. Engines – Xceed 4, Novarossi 2, Picco 1, Orcan 1, Sirio 1, Techpower 1. Tyres – Xceed (Enneti) 6, Enneti 1, Shepherd (Enneti) 1, ATS 1, Kiss 1, Contact 1.
After two of four rounds Cuypers leads the class 1 ranking (17 competitors) with a maximum of 242 points ahead of Hepp and Wurst with 234 points each. Levy (233) is fourth, Baldes fifth (232).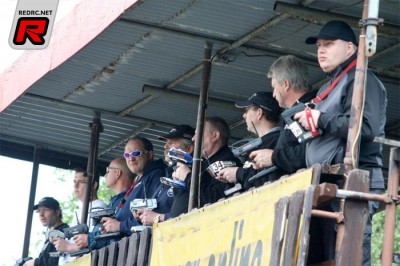 In class 2 Thilo-Alexander Toedtmann pushed his Mugen to pole position. With 37,164 he was clear ahead of Sebastian Scheidweiler (Serpent/37,637). Third spot was taken by Luigi Pili from The Netherlands, now racing with a German license to make the Western German Championship even more international with racers from Belgium, France and Bulgaria also. Daniel Toennessen (Mugen/38,95) took fourth position ahead of Ralf Wacker (Serpent/38,363).
With top five positions in both semi finals Dirk Drechsler (Mugen), Markus Bastians, Christian Roenicke (Serpent), Toenessen and Thomas Reiche (Serpent) as well as Pili, Carsten Pruessmann (Serpent), Wacker, Bjoern Koenig and Toedtmann opened the door to the main race. The final was dominated by Thilo-Alexander Toedtmann who took victory with a seven lap margin in front of Dirk Drechsler. Third spot on the podium went to Toennessen who was another two laps down. Pili, Bastians and Koenig took positions four, five and six to make it a sextuple success for Mugen.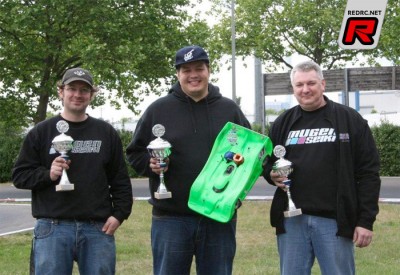 The result of the top 10 of class 2:
1. Thilo-Alexander Toedtmann, 13 laps – Mugen / Novarossi
2. Dirk Drechsler, 106 – Mugen / Novarossi
3. Daniel Toennessen, 104 – Mugen / Novarossi
4. Luigi Pili, 104 – Mugen / Novarossi
5. Markus Bastians, 103 – Mugen / Ninja
6. Bjoern Koenig, 96 – Mugen / Reds
7. Carsten Pruessmann, 90 – Serpent / RB
8. Thomas Reiche, 55 – Serpent / Xceed
9. Ralf Wacker, 44 – Serpent / Novarossi
10.Christian Roenicke, 33 – Serpent / Mega
Statistics: Chassis – Mugen 6, Serpent 4. Engines – Novarossi 5, Xceed/Mega 2, Ninja 1, Reds 1, RB 1.
In the ranking with 31 class 2 racers listed Dirk Drechsler is on top with 238 points ahead of Bastians (234), Toedtmann (228), Toennessen (227) and Martin Figge (Mugen/227).
After a one years break the 1/8 scale Western German Championship will be back at Hamm for round three on 18/19 June for the first race on the completely re-designed 325 meter track.
Source: Nitro-West [nitro-west.de]
---