June 3, 2011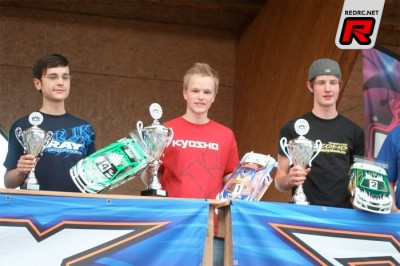 Last weekend the Warm Up race for the forthcoming European Championship 1/10 Electric Touring Cars was held in Traiskirchen in Austria, organizers of last years Buggy EC. The venue was a partly open hall used during winter as an ice hockey rink and the race attracted about 50 drivers from all over Europe. After 6 qualification rounds it was Christopher Krapp (Germany) driving a Kyosho TF-6 who took the pole position ahead of Yannic Prümper (Germany) driving a Yokomo BD-5 and Dominik Fleischmann (Germany) driving a HB TCX. The fastest lap of the whole event went to Steen Graversen (DK) driving the incredible Awesomatix 900.
Yannic won the first A-final 2.5 seconds ahead of Christopher with Alexander Hagberg coming third another 2 seconds behind. The 2nd A-final had to be restarted after Marc Fischer hit the timing bridge at about 80 km/h. This time Christopher held the lead for the whole race with Yannic coming second and Martin Hudy (from the back of the grid) in third place. In the deciding 3rd A-final Yannic couldn't match the pace of Christopher and had to give the second place to a very strong Alexander Hagberg.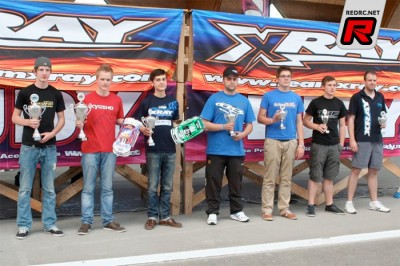 Final Result:
1. Christopher Krapp (D) – Kyosho TF-6
2. Yannic Prümper (D) – Yokomo BD-5
3. Alexander Hagberg (S) – Xray T3'11
4. Martin Hudy (SK) – Xray T3'11
5. Marc Fischer (D) – Corally Phi X
6. Teemu Leino (SF) – Xray T3'11
7. Dominik Fleischmann (D) – HB TCX
8. Steen Graversen (DK) – Awesomatix 900
9. René Klöckner (D) – Tamiya TRF-417
10.Frederik Südhoff (D) – HB TCX
You can find more event images here.
Thanks to Paul Srna for the report.
---