June 7, 2011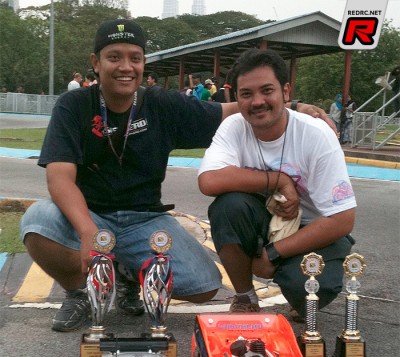 The 2nd round of Malaysia National Championship series was hosted by RCAC at the Titiwangsa R/C track in the heart of Kuala Lumpur. As the track was a little bit wet in the morning the conditions were not easy for the contenders. The races started with the qualifying of the 1/8th scale category. At his 1/8th scale debut race Haikal immediately piloted his Shepherd V8 '11 to the provisional TQ spot in the first round of qualifying. The combo of his out of the box Shepherd car with default factory settings and Shepherd tires work flawlessly on the damp but drying track. Despite the best effort by the other drivers during the 2nd and 3rd rounds of qualifying the he kept his TQ position for the 45 minute final.
The main final saw Haikal leading all the way from start to finish without ever losing his lead. A strong performance showed Mahathir, driving the newly landed Xray RX-8 but after 18 min he had to retire due to a mechanical failure. In the end, it was a dominant victory for Haikal with a 4 laps gap over the second placed Zaidi driving his Mugen MRX5 and Asrul completing the last podium spot. Congratulation also to Epin for making his first A-main final appearance.
1/8th scale final result:
1. Haikal – 163 laps in 45:38.621
2. Zaidi – 156 laps in 45:37.973
3. Asrul – 146 laps in 45:36.976
4. Ah Kong – 143 laps in 45:32.719
5. Eric Siow – 134 laps in 45:29.383
6. Epin – 98 laps in 33:14.903
7. Andak – 79 laps in 23:02.252
8. Ah Kong – 78 laps in 22:38.004
9. Mahathir – 56 laps in 18:11.634
10.Haji Jusri – 46 laps in 13:31.300
In the 1/10th category Mizan claimed the TQ spot with his Shepherd V10 '11 powered by the new Sirio Nemesis XXX engine followed by Bad on second place and Mahatir on third place both driving a Xray NT1 for Team BM Marshall. The 45 minutes final saw a little bit of a drama as the race was prematurely stopped at 30 minutes marks due to a transponder system error. Some of the drivers took the opportunity to replace their worn tires before the restart. In the end Mizan crossed the finishing line in first position in front of Mahathir and Fun Wei in third position driving an Xray NT1.
1/10th scale final result:
1. Mizan – 164 laps in 50:49.532
2. Mahathir – 154 laps in 50:25.217
3. Fun Wei – 151 laps in 50:25.718
4. Taufiqh – 145 laps in 50:36.404
5. Ah Tong – 139 laps in 50:38.134
6. Amir Ninja – 136 laps in 50:28.925
7. Eric Siow – 125 laps in 50:31.301
8. Zul Ojoy – 82 laps in 30:42.120
9. Bad – 58 laps in 17:29.360
10. Hafiz Fantini – 40 laps in 11:43.637
Source: Shepherd [team-shepherd.com]
---