June 8, 2011

Last weekend the 3rd round of the Hungarian Offroad Championship was held in Apaj, a small village about 50km's from the capital city of Budapest. The event was organised by RCOR, the biggiest Hungarian RC club. They prepared well for this event, once again they arranged permanent marshals so drivers did not need to help after their heats which was quite good news in the very hot weather, around 35°C, and huge dust. Trackside buffet was taking care all of our dining needs. Their track is very versatile, it has all kind of jumps (table, double, triple, step-down) and corners (sweeper, harpin, chicane) especially the long high-speed banked corner after the main straight where you can make your laptime with a big brave heart or sky rocket the car on the ruts into the fence.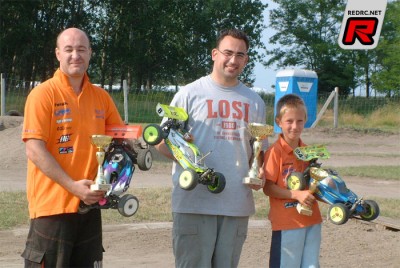 In Buggy class it was again very close qualification with only a few tenths separating the top positions. It is so good to see the upcoming youngsters getting faster and faster and making the life of the "old dogs" more and more difficult. In the end it was Cseko Gergely who TQ'ed in front of Bruzsa Richard and Toth Bence (all 3 Losi / RB). 4th qualifier was Gabnai Gergo (Mugen / RB) who was struggling a bit on Saturday but he was really up to pace on Sunday qualification and seemed to be a strong contender for the win. In the main they all started off quickly and pulled away from the rest of the field. Unlucky Toth Bence once again could not finish because of a servo failure while Bruzsa Richard and Gabnai Gergo were facing against mechanical problems which left Cseko Gergely alone in the front to take an easy win. The gap between the drivers was big so the rest of the final was not eventful.
1. Gergely Cseko – Losi 8ight 2.0 EU / RB Concept B11 / Pro-Line
2. Kozma Peter – Mugen MBX-6 / HPI Pro / LRP
3. Palla Balazs – Mugen MBX-5 / OS / GRP
What spectators missed in the Buggy final get back in the Truggy final. It was a bumper on bumper super close racing between Arvai Krisztian (Losi / RB), Hajos Robert (Kyosho / RB) and Fekete Robert (Losi / RB). About 10min to the race Fekete Robert was out with a broken steering servo while in the front Krisztian and the other Robert are swapping places. Krisztian could keep his head cooler in this great battle and opened a little gap in the finishing laps to bring home his first victory in the Truggy class after being the class of the field and champion of the Junior class in the previous years.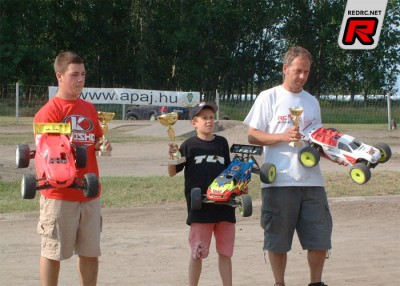 1. Arvai Krisztian – Losi 8ight-T 2.0 / RB Concept B10 / Pro-Line
2. Hajos Robert – Kyosho Inferno ST-RR / RB Concept B10 / AKA
3. Ladanyi Laszlo – Ansmann Kryptonite / Sirio CL7B STI / Ansmann
In the Electric class Fekete Robert secured the win in the 3rd deciding final with 22 thousands of a second in front of Palla Csaba. It was also a great and fair racing. This result also meant that Balazs is the winner of the E-Buggy category which has a separate evaluation in front of Kozma Peter and Drobek Zsolt.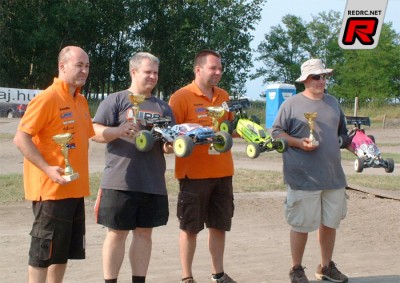 1. Fekete Robert – Losi 8ight-T-E 2.0 / Leopard / Pro-Line
2. Palla Csaba – Mugen MBX-6 Eco / Tekin / Pro-Line (1st E-Buggy)
3. Kozma Peter – Mugen MBX-6 Eco / LRP / LRP (2nd E-Buggy)
4. Drobek Zsolt – Mugen MBX-6 Eco / Tekin / Louise RC (3rd E-Buggy)
Junior Class
1. Ifj. Ladanyi Laszlo – Ansmann Virus 2.0 / Ansmann / Ansmann
2. Ando Norbert – Nanda NRB-3 / OS / Nanda
3 (DNS). Arvai Krisztian – Losi 8ight-T 2.0 / RB Concept C6BB / Pro-Line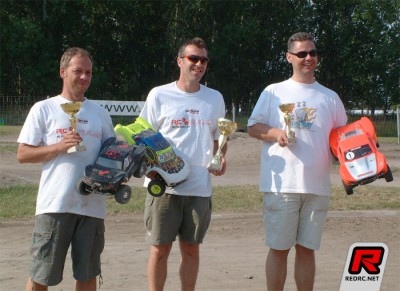 SCT Class
1. Varga Daniel – Hong Nor SCRT10 / Vanilla / Pro-Line
2. Ladanyi Laszlo – Ansmann X4SC Pro / Ansmann / Ansmann
3. Gyurics Tamas – Traxxas Slash 4×4 / Vanilla / Pro-Line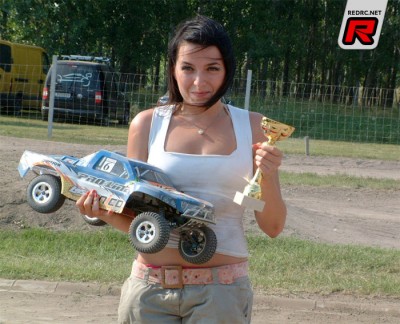 It was also the debut race of Gerger Evelin, the first female racer in our championship driving an SCT. She has only got to know about this hobby a few months ago and for sure looks to be a promising talent beside being very beautiful of course. She was welcomed by the biggest applause during the ceremony when she get her extra trophy.
Report and pictures by Cseko Gergely
---