June 14, 2011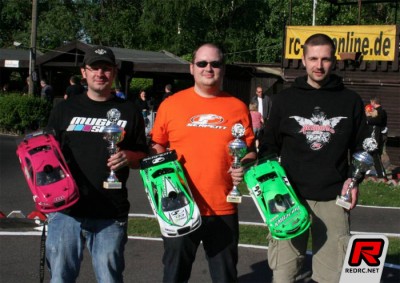 Rene Puepke in 1/10 scale and Frank Schewiola in 1/8 scale are leading the rankings after two rounds of the Nitro West Masters, a series of five race weekends held in Western Germany. Both Serpent racers were able to win at the season opener at Oberhausen as well at round two held at Dueren. Also in the newly launched 1/8 Hobby Cup class with unified engines from Novarossi both races saw the same winner with Mugen driver Thilo-Alexander Toedtmann.
In 1/10 scale Rene Puepke and Benjamin Lehmann are going hand-in-hand fighting for pole positions and victories. At Oberhausen Lehmann, who together with Puepke and Daniel Thiele moved from Mugen to Serpent for the 2011 season, caught TQ closely in front of Puepke with Marc Kreisig and his KM chassis third among a total of 25 competitors. In the 30 minutes finale Puepke took the lead and celebrated a fine win with his Xceed powered 733. Mugen racer Daniel Toennessen was two laps down to finish second ahead of Kreisig who was another five laps down. Lehmann had some issues and lost twelve laps but crossed the line on fourth ahead of "Oldie but Goodie" racer Werner Vogel with his Kyosho.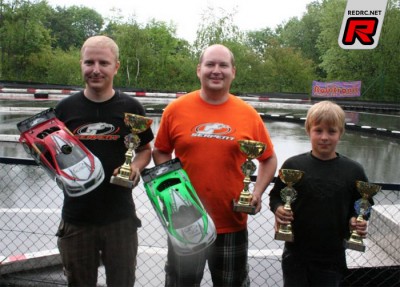 At Dueren Puepke caught the pole with Lehmann on third, separated by Xray fighter Andreas Weyhoven. The 30 minutes finale was the last race of the day which has been dry so far instead of rain as forecasted for the whole day. But around half time it started to rain slightly with the first racers to change onto wet tyres but at the 18 minutes mark thunder and lightning starts heavily and race director Markus Puetz immediately stopped the race. Following a quick tyre change Puepke was in the lead at the time the race was red-flagged with Lehmann on second but already four laps down. Young Marcel Schneider (Mugen) on third already made it to the podium at his first entry at the nitro racing scene in Western Germany. Mugen fellow Arndt Bernhardt finished fourth with Vogel on five again. Weyhoven dropped back to tenth position following a lap-one-crash.
The Top 10 ranking of the 1/10 class (30 competitors) after two rounds of the Nitro West Masters:
1. Rene Puepke, Serpent/Xceed – 242 points
2. Benjamin Lehmann, Serpent/Xceed – 236
3. Daniel Toennessen, Mugen/Novarossi – 234
4. Werner Vogel, Kyosho/Team Orion – 232
5. Arndt Bernhardt, Mugen/Novarossi – 231
6. Wolfgang Feldges, Xray/Orcan – 227
7. Faehd Labik, Mugen/Novarossi – 222
8. Lucien Zens, Serpent/Novarossi – 218
9. Dirk Zschaebitz, Serpent/Orcan – 215
10.Ferdinand Reineke, Xray/Novarossi – 215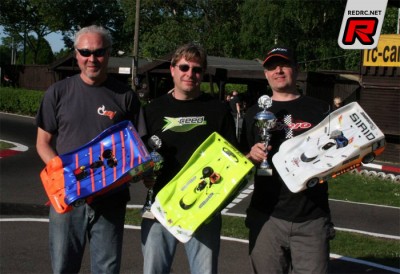 Engine guru Karl-Heinz Meister pushed his Xceed powered Serpent 966 to pole position in the 1/8 class at round one in Oberhausen with Uwe Baldes and his Orcan powered Mugen on second and Alain Levy with his Reds powered Serpent on third. Unfortunately the finale went bad for Meister and Baldes with both on first and second clearly ahead of the rest of the field. About six minutes before the chequered flag the front upper wishbone on Baldes' MRX5 collapsed, a possible subsequent damage following a slight contact while lapping a backmarker a few laps before. The MRX5 stopped upside down at the exit of the banked corner and Meister had no chance to avoid a crash which left both cars out of race. It was Serpent racer Frank Schewiola who took over the lead and brought the unexpected victory home. Christian Wurst (Mugen) was half a lap down on second while Ralf Vahrenkamp (Serpent) made it to third position on the podium. Alain Levy came on fourth in front of Ralf Wacker (Serpent) with Meister and Baldes on six and seven.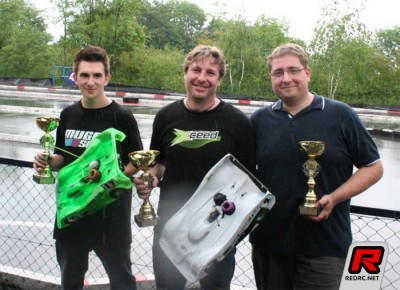 At Dueren, a narrow track with a couple of hairpins, Uwe Baldes chased his Mugen to pole position clearly in front of team mate Christian Wurst. Frank Schewiola (Serpent) took third spot on the grid. Unfortunately there was an unexplainable issue with the Baldes' car at the start and he had to enter the finale more than a lap behind the field. But he caught up quickly and was already second when his engine went lean at around half way into the 30 minutes race to drop back to seventh at the end. Also Wurst didn´t make it and had to retire crashing after only four and a half minutes. So Schewiola was an early leader. He stood concentrated until the end to achieve his second victory in a row. Young Jean-Pierre Roenicke, who has switched from Serpent to Mugen just before the E.C (B), finished a strong second. Carsten Pruessmann enjoyed a fine third place on the podium while Serpent fellow Ralf Wacker finished fourth ahead of Mugen primary rock Rainer Rosskothen.
The Top 10 ranking of the 1/8 class (18 competitors) after two rounds of the Nitro West Masters:
1. Frank Schewiola, Serpent/Xceed – 242 points
2. Ralf Wacker, Serpent/Novarossi – 233
3. Christian Wurst, Mugen/Sirio – 231
4. Ralf Vahrenkamp, Serpent/Novarossi – 229
5. Uwe Baldes, Mugen/Orcan – 228
6. Carsten Pruessmann, Serpent/RB – 227
7. Ingo Odenthal, Serpent/Novarossi – 222
8. Rainer Rosskothen, Mugen/Novarossi – 221
9. Markus Bastians, Mugen/Ninja – 220
10.Jean-Pierre Roenicke, Mugen/Novarossi – 119
The Hobby Cup, a series promoted by Shepherd Micro Racing especially in the Mid-German and south region, has been launched as an additional class in the Nitro West Masters but only for 1/8 scale. The idea behind is to offer the fascination of 1/8 scale racing at reduced costs using a unified Novarossi engine which is offered for only 139 Euro. Already ten racers entered round one at Oberhausen with Thilo-Alexander Toedtmann catching TQ ahead of Mugen fellow Puigi Pili from The Netherlands and Dirk Drechsler. In the 30 minutes finale Toedtmann was able to pull away from the field to win with a three lap advantage over Dirk Drechsler. Reinhard Zick took the third place on the podium while Thomas Kroeger and Bjoern Koenig finished fourth and fifth. Pili had to retire after 16 minutes following a crash. At Dueren Toedtmann again was on pole position ahead of Pili and local veteran racer Heinz Faigle. This time Toedtmann had an eight laps advantage at the end of the 30 minutes finale over Faigle who enjoyed second place ahead of Pili and young Christian Roenicke. Remarkable: All competitors in the Hobby Cup class, the so called HC8, are driving a Mugen chassis.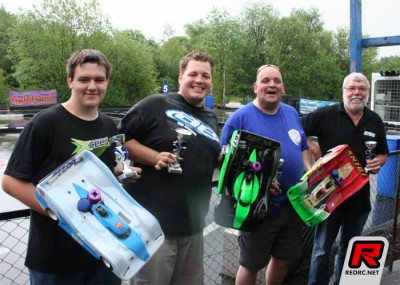 The Top 10 ranking of the 1/8 Hobby Cup class (12 competitors) after two rounds of the Nitro West Masters:
1. Thilo-Alexander Toedtmann, Mugen/Novarossi – 242 points
2. Puigi Pili, Mugen/Novarossi – 229
3. Heinz Faigle, Mugen/Novarossi – 119
4. Dirk Drechsler, Mugen/Novarossi – 119
5. Reinhard Zick, Mugen/Novarossi – 118
6. Thomas Kroeger, Mugen/Novarossi – 117
7. Christian Roenicke, Mugen/Novarossi – 117
8. Bjoern Koenig, Mugen/Novarossi – 116
9. Martin Figge, Mugen/Novarossi – 115
10.Andreas Klaus, Mugen/Novarossi – 114
Round three of the Nitro West Masters will be held on 6th and 7th of August at the challenging Rhein-Ahr-Motodrom of the MCC Rhein-Ahr at Bad Breisig at the Rhine river south of former German capital Bonn. This race weekend also means the warm up for the German Nationals which will take place at Bad Breisig on 8th to 11th of September.
Source: Nitro-West [nitro-west.de]
---