June 7, 2011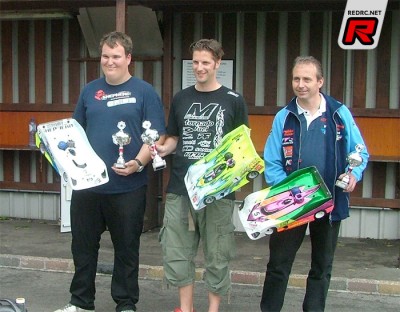 Last weekend was the third round of the Dutch 1/8 nationals held on the very small and tricky track of MBC de Sluis in Gouda. With a whole week of very good weather sadly enough Sunday started with rain. In the third round of qualifications the track was almost dry so the race director declared the last 2 heats dry which did not count. In the NK all drivers had a "wet" qualification time so everyone made it into the finals. On pole it was Rick V who decided to drive his old MRX-4X and was forced by rules to drive with it the whole day, he was followed by Arie Manten, John Ermen and Gunther v. Staey.
In the afternoon the track was dry and the weather stayed dry. In the main final Rick had a clean start, but made a small mistake allowing Gunther to take over the lead followed by John. Rick managed to overtake John and was closing in on Gunther. Gunther was probably slightly nervous with Rick on his tail and touched the pit wall damaging his car. Arie Manten was one of the drivers who had a lot of problems with his electronics after qualifying in wet and made many mistakes, with one of them causing him to collide with John Ermen forcing John to make some repairs. When he came back he was too far behind to reach the podium. At the finsh, Rick took the win followed by Joey Sorber and Marcel Schouten.
1. Rick Vrielijnck – 112L 30:14.603
2. Joey Sorber – 108L 30:13.830
3. Marcel Schouten – 102L 30:01.932
4. Richard Engbersen – 102L 30:04.621
5. John Ermen – 98L 30:09.672
6. Martin Zevenhoven – 89L 30:15.373
7. Frank Baggen – 78L 26:43.802
8. Arie Manten – 77L 23:26.195
9. Michiel Renting – 68L 22:17.141
10.Gunther van Staey – 22L 5:51.272
In the NOMAC it was Chef Rijcks taking the pole followed by Wim vd Wind, Johnny Jacoby and William Lefevre. Due to the rain some people decided not to drive so 20 drivers were qualified for running the finals. It was a clear final with less troubles after driving in the rain and a steady drive for most drivers. William was as usual the fastest on the track and took the win followed by Marc Meijer and Frederick Haaxman, who had a lot of troubles on Saturday to get his car right but finally he did.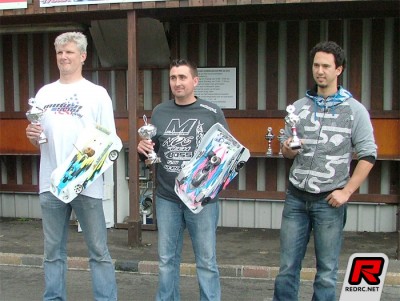 1. William Lefèvre – 105L 30:17.584
2. Marc Meijer – 102L 30:02.394
3. Frederick Haaxman – 101L 30:07.200
4. Wim van der Wind – 97L 30:06.136
5. Mario Gerssen – 93L 30:07.869
6. Johnny Jakoby – 87L 30:10.959
7. Ad Arents – 80L 30:00.095
8. Chef Rijcks – 68L 30:15.583
9. Benny Ciere – 68L 30:16.305
10.Peter Ende – 14L 4:08.654
The next race will be at the fast 1/10 EC-B track de Baanbrekers in Rucphen.
Thanks to Roelof Tooms for the report.
---