June 8, 2011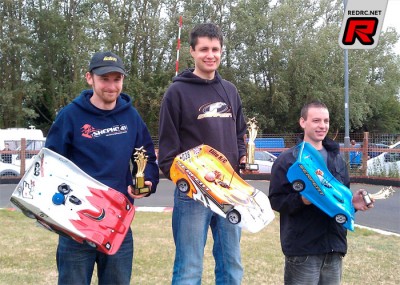 Mendip hosted round 3 of the 2011 BRCA 1/8th scale championship over last weekend, with the prospect of a very competitive race and good weather which should provide high grip levels. Saturday as expected was very warm with an ambient temperature of around 26 degree C with a very high cross wind but this did not seem to affect the cars on track. The usual top drivers were present apart from Neil Diver who had work commitments but was to arrive on Sunday. The grip levels initially were low which allowed all drivers to setup their engines prior to fine tuning the chassis setup.
The initial pace was set by Mark Green who was testing bodyshell configurations and also Kyle Branson who concentrated on clutch and engine settings. Pete Hastings, Andy North and Richard Hicklin looked like the closest challengers at this point prior to the appearance of Tim Wood and Daniel Bancroft. All these drivers continued to develop their setups and in particular Andy North who's car went backwards with every setup change which was of concern when the general track grip level was higher. Eventually a solution was found which enabled Andy and also team Shepherd to get back on the pace and continue to fine tune the chassis ahead of qualification on Sunday.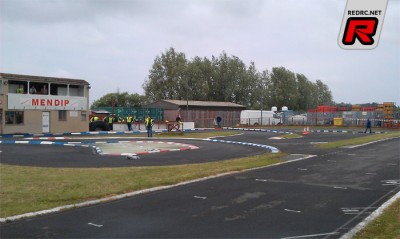 Sunday came with dry but overcast sky which would bring rain during the pre race build up and drivers briefing. The wind however helped keep the track in a semi dry state and after the first heats, the track had a dry line and provided heat 4 and 5 drivers a clear opportunity to set a banker time if the rain returned. In Heat 4, Andy Hastings, Ashley Gouvia and Dan Ghilbaldan all set good times to give them a good shot of making the top ten if the rain returned. In heat 5, Kyle Branson and Mark Green set the pace with Tim Wood and Andy North in close pursuit. Neil Diver however made a mistake along with team mate Pete Hastings, but both had done enough to make the top ten. Richard Hicklin however did not make the start due to radio issues and therefore lost the chance of a banker run. A misunderstanding came to light when Pete Hastings returned his car to the pits having thought his car had passed the post race scrutineering procedures but it actually had not been checked and as per the rules, the driver lost his FTD of that round which would eventually be his fastest since the rain returned and in his attempt to produce another top ten time failed due to a damp track at the start of Heat 5, Round 2.
With the rain falling very heavy, nobody ventured out onto the track and with the computer still running until completion of all the heats, the final top ten was as follows:
1. Kyle Branson – Serpent /Sirio
2. Mark Green – Serpent/Novarossi
3. Tim Wood – Serpent/Xceed
4. Andrew North – Mugen/IDM
5. Andrew Hastings – Shepherd/IDM
6. Ashley Gouveia – Serpent/Exceed
7. Neil Diver – Shepherd/IDM
8. John Carr – Serpent/Exceed
9. Dan Ghibaldan – Motonica/VOX
10.Jason Frost – Serpent/IDM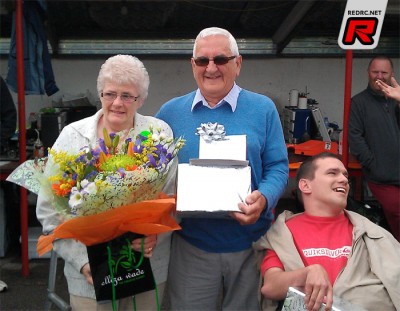 Prior to all the finals, the committee presented Eric and Peggy White with a present from all the racers in celebration of their upcoming 60th wedding anniversary. Eric White for people who are not aware is literally known has Mr 1/8th Circuit in the UK and was the section chairman for 25 years until his retirement some 3 years ago but he is still part of the current committee until his pending total retirement this term. All the committee would like to congratulate them and also thank them for their efforts over the years.
With the track now fully dry, the final would potentially become a close fight at the top. The first casualty was Neil Diver in the warm up but he would get under way loosing 7 Laps. Andy North from 4th cut at the first corner loosing 7 laps due to getting the car back to the pits. Up front it was Kyle from Mark and Tim until both Kyle and Mark hit trouble early on, paving the way for Tim to run comfortably to the finish from a hard charging Andy Hastings in 2nd who kept Tim on his toes and a good third place for local driver Ashley Gouveia. Neil Diver recovered well to finish just 4 seconds behind Ashley. Andy North was also on a very strong recovery drill until engine trouble and also radio problems cut his race short.
The final results were as follows:
1. Tim Wood – Serpent/Xceed: 109 Laps
2. Andrew Hastings – Shepherd/IDM: 108 Laps
3. Ashley Gouveia – Serpent/Xceed: 103 Laps
4. Neil Diver – Shepherd/IDM: 103 Laps
5. Dan Ghibaldan – Motonica/VOX: 98 Laps
6. Jason Frost – Serpent/IDM: 82 Laps
7. John Carr – Serpent/Xceed: 72 Laps
8. Andrew North – Mugen/IDM: 68 Laps
9. Kyle Branson – Serpent /Sirio: 26 Laps
10.Mark Green – Serpent/Novarossi: 6 Laps
The next round is at Halifax
Thanks to Andrew North for the report.
---