June 21, 2011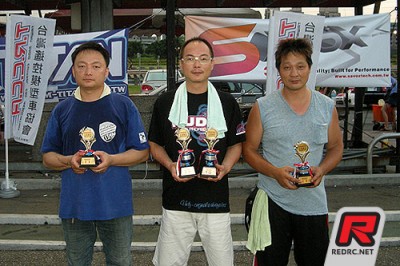 Last weekend the second round of the Taiwan on-road national championship series took place in Taipei, the capital city of Taiwan. The race was held at the large and technical Er-Chong Public RC Race Track with its 90 metre long straight and great combination of curves and hair pin corners that make it very high speed and challenging. The weather was sunny and perfect for the race but the high ambient temperate together with the difficult track made it extremely tough on both man and machine. The event attracted a total of around 90 hobby enthusiasts to participate in the three different race categories  1/8 GP, 1/10 GP and 1/10 EP. In 1/8 GP it was local phenomenon Wang Sang-Chun who took the TQ honour and went on to win the 30 minutes final at his home track. His only challenge came from second placed driver Jones Chu, but only for the first 16 minutes before Jones stripped the front belt of his RX8. Afterwards Wong cruised to the victory followed by Chi Hwa-Sheng 1 lap down in 2nd and Chang Jia-Ming another 6 laps down in 3rd position.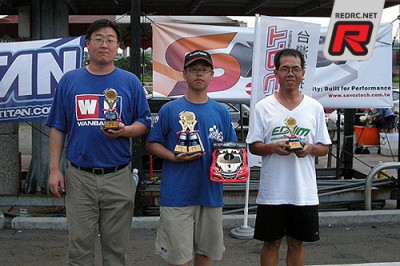 In 1/10 GP, again it was a talented young star in the form of Huang Yi-Hao who took overall TQ and taking a clear win with a Serpent S733 from Luan Shao-Yu in 2nd and Zeng Ming Xiu in 3rd position.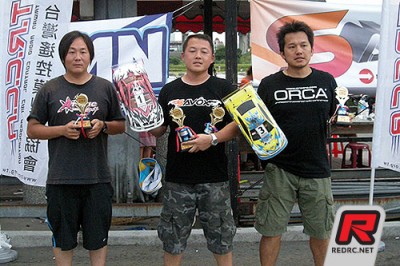 In 1/10 EP, after 3 rounds of close and intense Finals, it was Leo Chen who took the first two finals from pole position to secure the victory. The final leg saw four drivers competing intensely for the podium finish, Ron Chen battling with third place finisher A Wei until last corner to secure his 2nd overall position. Interestingly, at the end of the race we have found three repeating TQs and Champions for all three different categories. The 3rd round of the TRCCA championship series will move down South take place at Titan Race Track nearby TaiChung City on 21th of August where the battle for the annual overall championship titles continues.
Source: TRCCA
---