July 18, 2011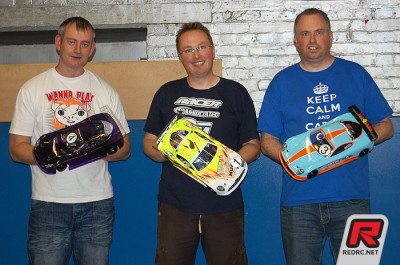 The second round of the inaugural BRCA F1 and GT10 nationals took place at Ardent Raceway. In the GT10 class that is closely based on the World GT formula pioneered in the US, Luke Burley took a dominant TQ driving a GM powered Associated 10R5.1. Luke was the class of the field all day leaving Mark Burgess in 2nd on the A-final grid ahead of Jason Butterfield, both also driving Associateds. In the A final Luke cruised to a comfortable win and in doing so almost lapped the entire field. He was followed home by Jason Butterfield in second and Chris O'Donoghue in third position.
GT10 results
1. Luke Burley
2. Jason Butterfield
3. Chris O'Donoghue
4. Mark Burgess
5. Chris Blakey
6. Gavin Clinch
7. Richard Norris
8. Mark Richards
9. Marlon McKulsky
10. Rob Hall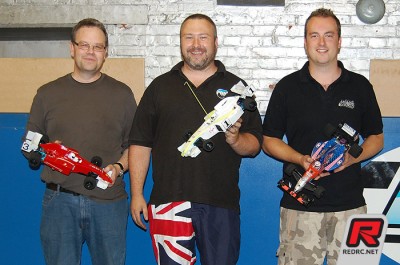 In the GP2 F1 class, drivers are required to run a control silver can motor. The result is very even performance levels and low running costs, which it is hoped will see the class grow and develop over time. In qualifying Darren Newton was the class of the field; he took a comfortable pole ahead of series newcomer Dave Treacey, with Rob Hall lining up 3rd on the grid for the A final. Darren converted his pole to a win in the final and won by just over 6 seconds from Rob Hall. Front row started Dave Treacey retired after 3 laps and this allowed Tom Hampson to move up from 8th on the grid and take the final podium place. Championship tables are now available here. The third and final round of the series will take place in Teesside at the beginning of September.
F1 GP2 results
1. Darren Newton
2. Rob Hall
3. Tom Hampson
4. Alan Harland
5. Paul Campion
6. Simon Taylor
7. Giles Hodgkinson
8. Dave Treacey
9. Adrian Parkes
Thanks to Mark Stiled for the report
---