July 2, 2011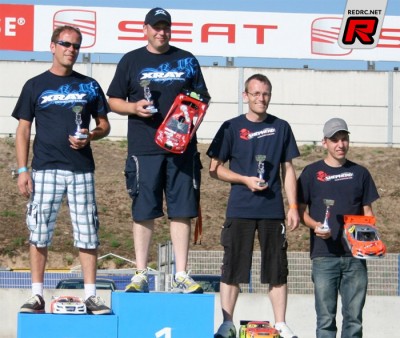 Last weekend the first European Nitro Challenge was held at the permanent RC track of the RC Team Hockenheim located at the world famous Hockenheim Ring Formula 1 circuit. More than 70 drivers entered the different classes, among them many international top racers like Robert Pietsch, Daniele Ielasi, Ronald Völker and Michael Salven. Different from other events the three fastest consecutive laps were taken for the qualifying ranking while the 4 fastest drivers qualified directly for the final. In the 1/10th Hobby Cup class it was Alex Kempe driving the 3 fastest laps followed by Marcus May, Klaus Lechner and Markus Spaniol. The 1/8th scale Hobby Cup class saw Thilo Tödtmann taking the pole-position in front of Luigi Pili, Norbert Mayrhofer and Benny Endres.
The qualifying in the 1/10th scale open class was very close. With his Kyosho V-One R4 Dominic Greiner took the pole position with 0,10 sec in front of Shepherd racer Ronald Völker. Also racing for Shepherd Jilles Groskamp followed on 3rd place while Xray driver Dirk Wischnewski completed the top 4. On 5th place just outside the top4 was Shepherd team leader Patrick Schäfer with a gap of only 0,07 sec.
With the most entries the 1/8th scale open class saw the toughest fight for the direct qualifying places. Again current world champion Robert Pietsch showed a great performance with his Mugen MRX 5 and was the only driver needing less than 52 sec for the three laps. On second place was young Serpent hot shot Philip Eberle in front of his team leader Michael Salven on 3rd place. Shepherd racer Richard Volta completed the top4 while Maxi Vogl, also racing for Shepherd, missed the direct qualification by just 0,01sec on 5th place. On Saturday evening the dinner buffet took place in the Hockenheim Ring Hotel located only a few meters from the track. It was a very nice evening among friends with a lot of interesting discussions about rc car and other things.
Sunday morning the lower finals were run while the main finals were scheduled for Sunday afternoon. The first main final was the 1/10th scale Hobby Cup final. Pole-setter Alex Kempe took the early lead followed by his biggest rival Marcus May. But technical problems forced Alex to retire after only 12 min and Marcus May took over the lead followed by Markus Spaniol. This was also the final order after 30min with Sascha Vorgrümler taking the last podium place.
1. May, Marcus – 76 laps 30:15.87
2. Spaniol, Markus – 74 laps 30:24.03
3. Vorgrümler, Sascha  – 68 laps 29:31.65
4. Lechner, Klaus  – 65 laps 30:05.63
5. Müller, Florian – 64 laps 30:19.29
6. Galot, Patrick – 60 laps 30:11.54
7. Schumann, Peter – 60 laps 30:22.17
8. Kempe, Alex – 29 laps 12:49.56
9. Lechner, Veronika – 24 laps 21:57.72
The 1/8th scale Hobby Cup final saw a clean start with Thilo Tödtmann defending his pole-position. But problems during the final cost some time. After 30 min Norbert Mayrhofer crossed the finishing line in first position followed by Jean-Marie Galot who bumped up from the semi final. Thilo Tödtmann completed the podium.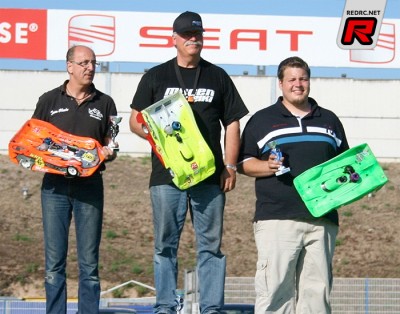 1. Mayrhofer, Norbert – 88 laps 30:09.13
2. Galot, Jean-Marie – 87 laps 30:17.93
3. Tödtmann, Thilo – 85 laps 30:23.98
4. Schuster, Patrick – 83 laps 30:09.77
5. Weihert, Armin – 82 laps 30:08.37
6. Jung, Christian – 80 laps 24:07.36
7. Graf, Peter – 78 laps 18:06.55
8. Pili, Luigi – 77 laps 18:19.26
9. Endres, Benny – 74 laps 26:20.78
10.Künzl, Steffen – 58 laps 20:25.58
The 1/10th scale class saw a thrilling 45 min final with a lot of close fights for positions. Pole-setter Dominic Greiner was the early leader followed by Jilles Groskamp and Patrick Schäfer. After 10 minutes Schäfer managed to pass Groskamp but as he planned to do one pitstop more, he had to increase the gap to stay in front of the fast Dutch driver. The Shepherd pairing was closing in on leader Greiner when technical problems forced him to retire. Meanwhile Völker came closer to the leading duo putting additional pressure on Schäfer and Groskamp. At the middle of the race Völker changed his outside tyres loosing some time while Groskamp had an engine cut off allowing Schäfer to reduce the pace a little bit. With fresh tyres Völker had the fastest lap times at the end of the race but the gap was too big and Schäfer crossed the finishing line in first position followed by Völker and Groskamp.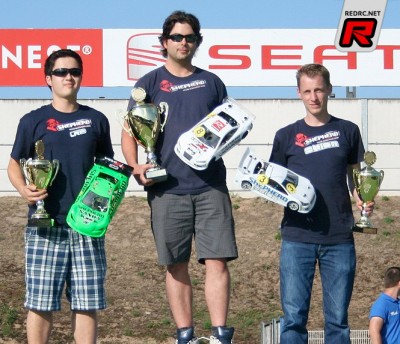 1. Schäfer, Patrick – 128 laps 45:00.79 (Shepherd)
2. Völker, Ronald – 128 laps 45:03.22 (Shepherd)
3. Groskamp, Jilles  – 127 laps 45:01.60 (Shepherd)
4. Huber, Manuel – 127 laps 45:15.83 (Xray)
5. Nähr, Patrick – 126 laps 45:10.75 (Shepherd)
6. Wischnewski, Dirk – 123 laps 45:20.14 (Xray)
7. Rozycki, Jakub – 119 laps 44:37.36 (Kyosho)
8. Cheung, Michae – 115 laps 45:26.54 (Shepherd)
9. Greiner, Dominic – 87 laps 32:53.06 (Kyosho)
10.Gassauer, Patrick – 52 laps 18:44.19 (Shepherd)
The 1/8th final saw a lot of technical problems and position changes throughout the race. Already after 10 minutes Alain Levy had to retire followed by Phillip Eberle at 23 min. First prominent victim was Robert Pietsch who had to bring back his MRX5 to the pitlane after 25 min. Also Oliver Mack and Daniele Ielasi didn't have a clean race while Tobias Hepp had to stop 30 sec before the end of the 45min final. Not having the same problems as his rivals Michael Salven cruised to the victory 4 laps in front of Maxi Vogl on 2nd place and Richard Volta finishing 3rd.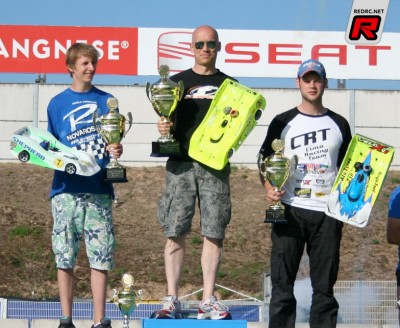 1. Salven, Michael – 143 laps 45:01.67 (Serpent)
2. Vogl, Maximilian – 139 laps 45:15.44 (Shepherd)
3. Volta, Richard – 137 laps 45:10.36 (Shepherd)
4. Kandelhart, Gerhard – 136 laps 45:01.94 (Xray)
5. Hepp, Tobias – 133 laps 44:22.85 (Xray)
6. Ielasi, Daniele – 133 laps 45:03.56 (Shepherd)
7. Mack, Oliver – 110 laps 43:01.98 (Shepherd)
8. Pietsch, Robert – 80 laps 24:58.66 (Mugen)
9. Eberle, Philip – 62 laps 22:43.01 (Serpent)
10.Levy, Alain – 21 laps 10:46.65 (Serpent)
Source: Shepherd [team-shepherd.com]
---