July 14, 2011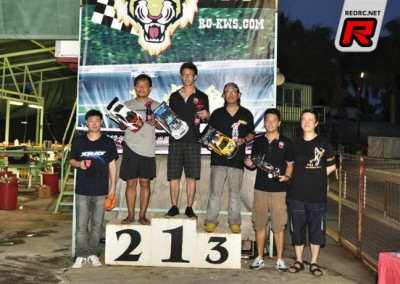 The first round of the Hong Kong & Macau Selection Race for the 2012 KM World Cup took place last weekend at the ACO Racing track. Qualifying had to be halted after two rounds due to a heavy downpour but not before KM Group Development Dept. Manager & H-K1 designer Hung Cheung Hang was leading away and made the best lap of the qualify round with 23.133 sec and the only 26 lap run, where the second car was the Shepherd team driver Michael with 25 laps and 23.453 sec best time. Third position was the famous Hong Kong driver Samuel Chiu, who had enjoyed more than 30 years of RC racing and is still capable of competing with the yound guys, who running an Xray made 25 laps with 23.537 best time. The fourth place driver was track manager Leung Wing Wah, who was driving a H-K1 and managed to also make a very fast lap time of 23.259 sec but had a little crash in the second qualifier with Samuel which lost him the second place in qualifying. Since all KM Cup race is following the IFMAR race system then those four drivers were straight into the A-main and no need to race the semi-finals.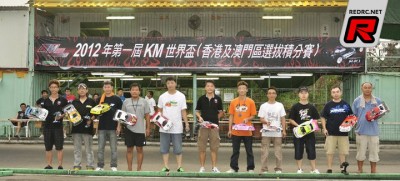 In the A-main final, which featured 11 drivers after the 10th and 11th finisher after the semi finals had the exact same time, Hang again led from start to finish and made the best lap time of the day, a 23.086. ACO track manager Leung was keeping his 2nd position during the final with his H-K1 and made a lap time of 23.127, while 3rd position was taken by Shepherd driver Michael with a stable drive and a 23.514 sec best time. Fourth and fifth position saw a hard battle between H-K1 driver Ray and NT-1 driver Samuel, battling with each other for almost half of the race and on the last lap Ray was only 1 sec ahead but Samuel ran out of fuel in the final corner and had to settle for 5th position.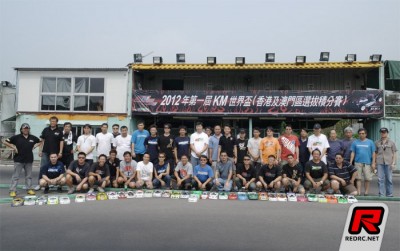 KM Group International will hold total 6 selection races in three different race tracks in Hong Kong until next year before the 1st KM World Cup takes place in Thailand next October. Two more races will take place this year and three more next year with the top three KM H-K1 drivers from Hong Kong & Macau to be sponsored to attend the 1st KM World Cup.
Source: KM [km-rc.com]
---