July 11, 2011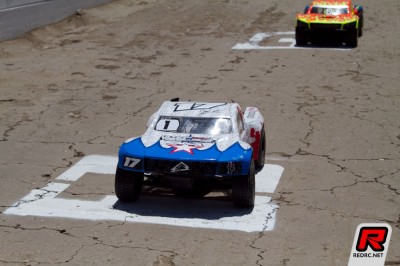 The 14th Annual Hot Rod Hobbies Shootout wrapped up today with some spectacular racing! The track was patched and prepped nicely for the mains by Jimmy Babcock and crew. Traction was unreal, competition was fierce, and the crowd was clearly entertained by their abundance of oohs and aahs. Pro-2 short course kicked off the day with the first round of the triple a-mains. From pole position, Jared Tebo lead the first lap and never looked back in A1. A2 followed suit with complete domination driving his Kyosho RB-5 SC to the victory and clinching the overall win. TLR teammates Mike Truhe and Frank Root had some pretty epic battles for 2nd place, swapping positions what seemed like every corner. Truhe and Root had a rough start in A3, but it didn't take them long to work their way back to the front where the rivalry continued to entertain the spectators.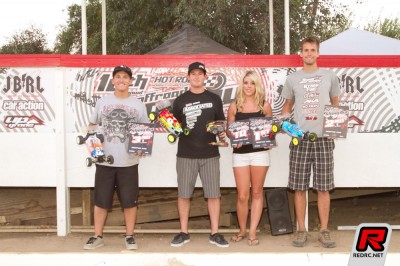 Ryan Cavalieri was TQ in 4wd modified. He lead A1 from the start and looked to start walking away with an easy victory. With a couple of laps to go and a good margin between him and Durango's Ryan Lutz, Cavalieri went for some conservative lines allowing Lutz to make up some ground. With two corners to go, Cavalieri had to dodge a crashed lapper, which put Lutz right on his bumper. What happened next may have been the pass of the year! Lutz and Cavalieri were lined up for the last double before the start finish line. Lutz obviously had a bit more momentum from the previous corner and made a perfect jump pass over the top of Cavalieri, hung a left hand turn and took the win! Cavalieri was looking for redemption in A2 but an early mistake let Tebo and Lutz slip by. Cavalieri made quick work of Tebo, then a crash by Lutz put him back a few positions. It was then total domination by Ryan Cavalieri with his B44.1. Tyler Vik had a great run in A3 working his way all the way up to 2nd place from the 6th qualifying position but it was Ryan Cavalieri getting out front and cruising to victory and the over all win in 4wd modified.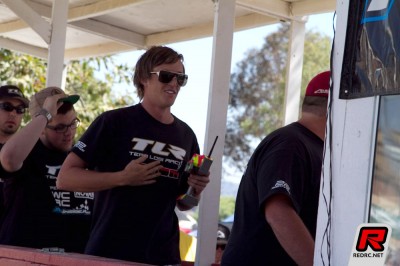 2wd Modified was built up to be the most exciting class of the weekend. Tebo was TQ but Cavalieri, Evans, and Truhe were never far behind and it looked as though anyone of them could take the title. A1 saw many uncharacteristic mistakes by Jared Tebo and just could not work his way back to the front of the pack. From the 5th starting position, Cavalieri had a good amount of ground to make up and TLR's Dustin Evans Found himself leading the pack halfway through the race. Truhe Lead early for a few laps but small mistakes kept him in back of the lead pack. It was a battle to the wire between Cavalieri and Evans but the TLR22 was able to edge out the B4.1 by .3 seconds to hang on for the win. Mike Truhe was looking unstoppable in A2 while Tebo and Evans were doing battle for 2nd. Evans went wheel to wheel with Truhe for last 7 laps only to capitalize on a crash by Truhe on the last lap. Dustin clinched the overall win with that last lap pass. A3 would go to Mike Truhe over Ryan Cavalieri to put TLR 1 and 2 on the podium in 2wd modified.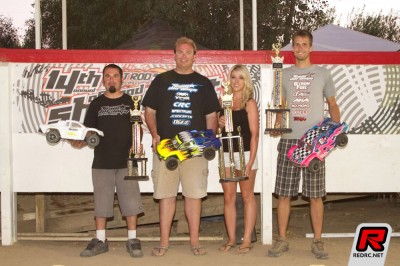 Pro-4 short was dominated by Team Durango. A1 and A3 were won by Billy Fischer, A2 by Ryan Lutz and Travis Amezcua grabbed a couple 2nd place finishes to stand 3rd on the podium. Fischer took the overall with his two wins and Lutz was 2nd with a 1st and 2nd place finish.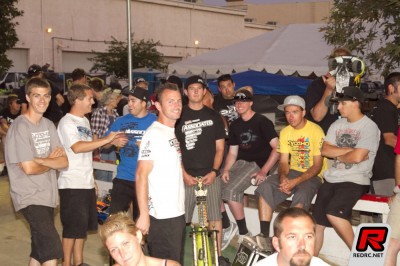 It baffles me that the Hot Rod Hobbies Shootout is such a big race. It is well known for being scorching hot every year, yet racers still show up for the 3-day race year after year. Though tire wear is high, the "blue groove" track is very fun to race and that is one of many reasons this race is so popular. This year it happened to be the last big race before the 1/10th scale electric worlds in Finland and the pros were looking forward to sizing up their competition at the race. After chatting with many of them about the level of competition here, they were unanimously anxious to get to Finland and race with the fellow elite drivers for the world championship.
Image Gallery
---