July 21, 2011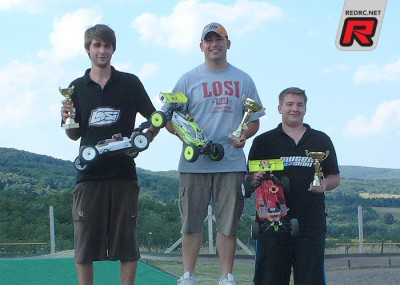 The 4th round of the Hungarian off-road Championships took place in Bokor last weekend at great weather conditions. The track raced on is about 370m long and made from a mix of soil and sand with many different artificial surfaces like carpet, stones and more at different places. The track owners, the Szebelledi family, did a great job again to make it a superb event. In the Buggy class it was Cseko Gergely who grabbed the TQ by winning 4 out of the 6 qualification rounds. All the usual frontrunners bumped up into the main from the semis except young Palla Balazs who forced to retire. The main final started without Bruzsa Richard who looked to be the main contender for the win showing great pace in the semi but was hit by throttle servo problems during the 3min warm-up and had to retire. After the start Gergely opened the gap ahead of the trio of Gabnai Gergo, Toth Bence and Szebelledi Laszlo. Laszlo looked to be the fastest among them but an inconsistent engine and several cut-offs prevented him to finish any of the top places. Gabnai Gergo and Toth Bence continued to battle with mainly Gergo being in front. However at the closing stage of the race Bence remained in front of Gergo and finished 2nd.
Buggy results
1. Cseko Gergely – Losi 8ight 2.0 EU/RB Concept B11/Pro-Line
2. Toth Bence – Losi 8ight 2.0 EU/RB Concept B11/PMT
3. Gabnai Gergo – Mugen MBX-6/GO/Pro-Line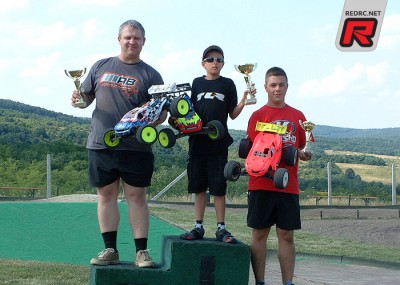 In Truggy class young talent Arvai Krisztian continued exactly how he finished the last race when he brought home his first victory in this class. He took the pole position by winning each qualification round and made it clear that his intention of winning the title at the end of the year just got stronger. In the final his position was only scared by Fekete Robert who got in the to the lead several times but Krisztian managed to keep his nerves and got back in front when it counted the most and took his second win in a row.
Truggy results
1. Arvai Krisztian – Losi 8ight-T 2.0/RB Concept B10/Pro-Line
2. Fekete Robert – Losi 8ight-T 2.0/RB Concept B10/Pro-Line
3. Hajos Robert – Kyosho Inferno ST-RR/RB Concept B10/AKA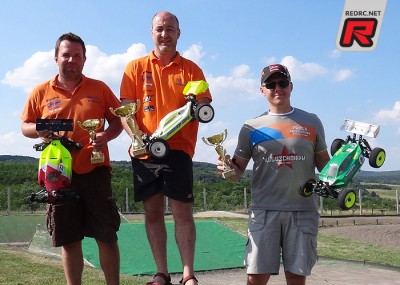 In Electric class Palla Csaba won five qualification heats and started from pole into the A-mains. Also winning the first final he could almost feel the winner trophy in his hands but fast charging Kozma Peter starting from the 4th on the grid prevented it from happening. Peter put things together greatly for the last two finals and won. Another great performance came from Tozser Aron who grabbed the last podium spot starting from the last place.
Electric Buggy results
1. Kozma Peter – Mugen MBX-6 Eco/LRP/LRP
2. Palla Csaba – Mugen MBX-6 Eco/Tekin/LRP
3. Tozser Aron – Losi 8ight-E 2.0 EU/Tekin/Pro-Line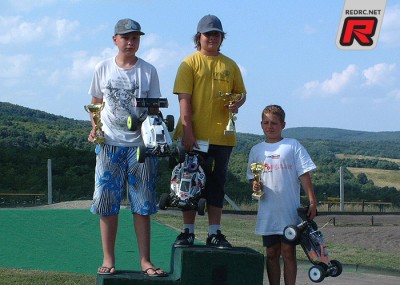 Junior class:
1. Loncsar Peter – Hobao/Novarossi/Pro-Line
2. Ando Norbert – Losi 8ight 2.0/OS/Pro-Line
3. Ifj. Ladanyi Laszlo – Ansmann Virus/AR21/AR
Thanks to Cseko Gergely for sending the report
---