July 21, 2011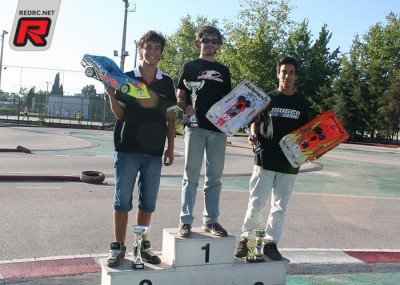 Ricardo Nogueira and Bruno Coelho won the recent fourth round of the Portuguese on-road nationals in 1/8 scale and 1/10 scale 200mm respectively. Bruno TQ'ed both classes but it was Ricardo Nogueira (Serpent/Novarossi) who won 1/8 scale after Mugen driver Bruno hit engine problems with 10 minutes to go. This helped Ricardo Costa (Mugen Seiki/Novarossi) to claim the second place with Coelho in third place.
1/8 scale results
1. Ricardo Nogueira – Serpent/Novarossi
2. Ricardo Costa – Mugen Seiki/Novarossi
3. Bruno Coelho – Mugen Seiki/Novarossi
4. José Pequito – Xray/Picco
5. Pedro Praça – Serpent/Novarossi
6. Cláudio Souto – Xray/Novarossi
7. Mário Miranda – Mugen Seiki/Ninja
8. Cláudio Lopes – Serpent/Novarossi
9. Tiago Monteiro – Xray/Novarossi
10. José Felix- Serpent/Novarossi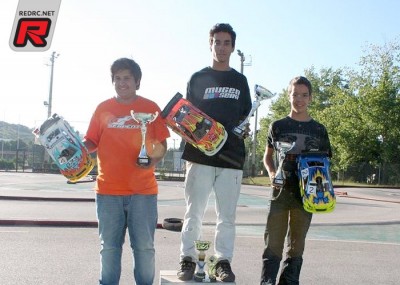 In the 1/10 scale 200mm class it was Bruno who drove his Novarossi-powered Mugen to the top spot on the podium with Fabio Ramos (Serpent/Novarossi) in second, Pedro Sousa (Xray/OS) and Paulo Mota (Xray/Novarossi) in fourth position.
1. Bruno Coelho – Mugen Seiki/Novarossi
2. Fabio Ramos – Serpent/Novarossi
3. Pedro Sousa – Xray/OS
4. Paulo Mota – Xray/Novarossi
5. Nuno Bastos – Xray/Novarossi
6. Franco Vilarinho – Serpent/Novarossi
7. Rui Completo – Xray/Novarossi
8. Mário Miranda – Mugen Seiki/Novarossi
9. Paulo Rosa – Mugen Seiki/Novarossi
10. Rogério Araujo – Xray/Novarossi
Thanks to Cesar and Bruno Coelho for sending the report
---