July 1, 2011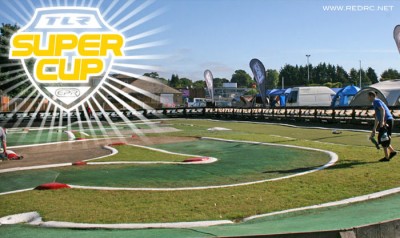 Last weekend saw the famous Eden Park Raceway club host the inaugural TLR Super Cup race meeting. Set to run over the weekend with 2WD, SCT and 4WD Buggy classes, the Super Cup format added a subtle twist to the normal race format with all classes running simultaneously over the two days with controlled practice and three rounds of qualifying on the Saturday and two round of qualifying a 3-leg finals for everyone on the Sunday. After a rather wet and slippery start on the Saturday the second race day saw rising temperatures and the usual suspects continued on good form with Ellis Stafford and Danny McGee battling for the overall TQ position in 2WD and 4WD whilst Chris Brooke looked to have sewn up the SCT qualifying after his performance on the Saturday ahead of Nathan Ralls and team mate Andy Carter.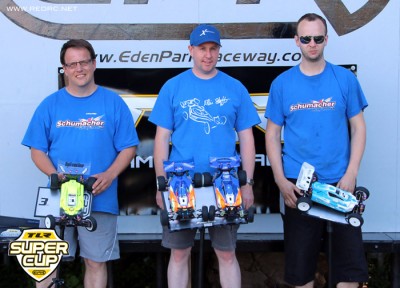 Come the finals, Ellis broke out from pole in leg one of the 4WD finals allowing Danny to take the win relatively comfortably ahead of team-mate Nathan Ralls and Matt Benfield in 3rd but in leg two, he had no misfortune and took the win with the TQ setting 511 ahead of Nathan and Danny to set up an exciting 3rd leg scenario with potentially any one of the three of them able to win the meeting. In the end, Ellis did what he does best and got his head down and drove off into the distance, this time with a Kyosho to secure the first ever TLR SuperCup 4WD title.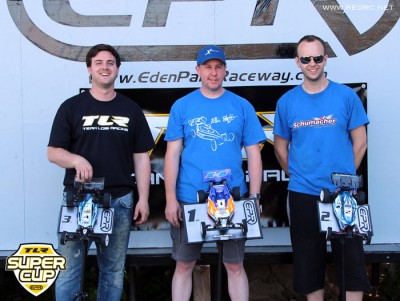 In 2WD, despite the best attentions of Danny McGee's Schumacher Couger, the X-Factory man won all three legs from pole in a virtual faultless display of poise and controlled aggression. TLR driver Darren Bloomfield rounded off the podium in 3rd place tying on points with Tristram Neal but edging him out due to a faster time.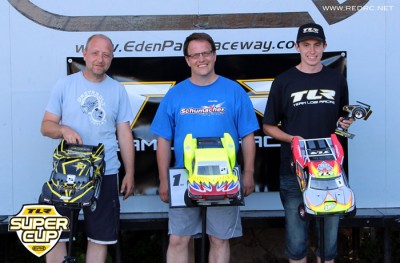 In SCT, Nathan Ralls with his HPI Blitz ESE made the most of his opportunities to take the overall SCT title courtesy of two leg wins from pole-sitter Chris Brooke with the XXX-SCT of privateer Dave Crew driving a steady race to take the 3rd place overall.
Source: Horizon Hobby [horizonhobby.co.uk]
---