August 8, 2011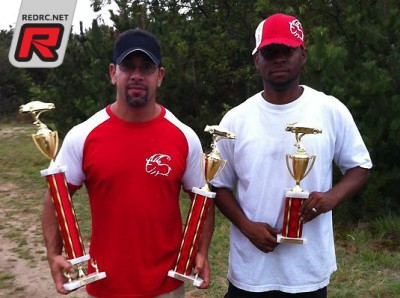 The 2nd Annual Tri-State Shootout was held this weekend in New York at Floyd Bennett Raceway in Brooklyn. The track has been improved all year by Ralph Fortunato and friends. Fresh paint, news boards, improved layout and driver's stand give all New York city area RC drivers a great place to race. First off was touring. Starting from pole position was Jamie Corrado but the race started with a lot of action and as a result three to four different drivers where fighting for the lead. Local hot shot and bump-up man Diatta Collimore was leading at the 12 minute mark when it started to rain. The race was going to be continued and run again later but more rain forced the results to be called using the qualifying order.
Results Touring class
1. Jamie Corrado – Capricorn/Novarossi
2. Sal Amato – Xray
3. Gael Lambre – Capricorn/Novarossi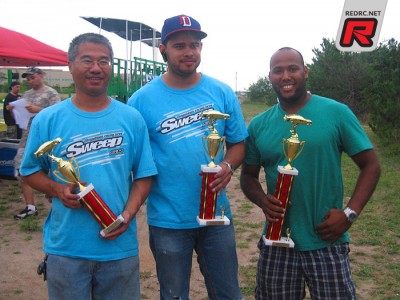 The rain stop and allowed GT to get their main in. Rob Bendall started on pole after setting TQ with a run of 16 laps in 5:01. At the end, it was defending champion Tony Q taking the win.
GT class results
1. Tony Q.
2. Luis Mercado
3. Roland Shao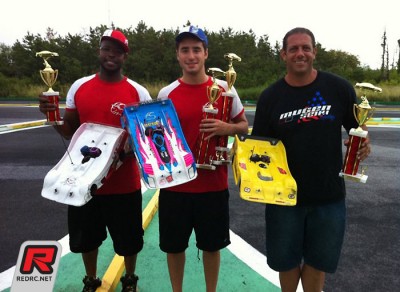 With the track still dry 8th scale was next. Joaquin de Soto Jr was starting from pole after setting TQ and flirtin with the track record with a run of 22 laps in 5:05. Unfortunately it started to rain during the warm up and the race had to be called and results determined based on qualifying.
1/8 scale results
1. Joaquin de Soto Jr – Capricorn/Novarossi
2. Ralph Fortunato – Mugen/Novarossi
3. Joe Wright – Capricorn/Novarossi
Thanks for Joaquin de Soto for sending the report.
---