August 29, 2011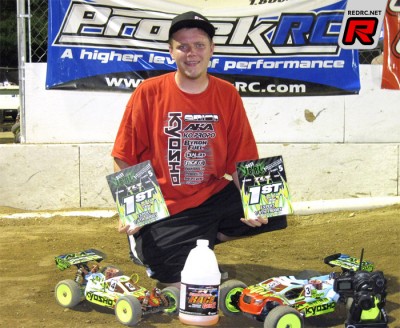 The JBRL was back in action last Saturday, after nearly a two month break, with round 5 being held at Green Flag raceway in Hesperia, California. It seems the JBRL can't get a break from the heat, as temps soared to over 100 degrees. Round 4 was in Palm Desert, where the temps reached nearly 120 degrees, now the JBRL patrons would have to endure another steam bath at round 5. The heat was also up on the track, as the points totals were very tight between Adam Drake and Cody King. After campaigning his 1/10 electric cars at the Worlds and Nats, Cody was back to nitro and hit the ground running.
In the truggy class, Drake captured the TQ, with Cody starting 2nd. The two would battle the entire race, swapping positions and racing nose to tale most of the 25 minute main. Cody seemed to have a slight edge, just a little more corner speed in various sections of the track. With the clock winding down, and a mistake by Drake in the back corner of the track, that's all King would need to build up a nice cushion and cruise to the victory.
Expert Truggy results:
1. Cody King – Kyosho
2. Adam Drake – TLR
3. Jessie Robinson – Mugen
In buggy the starting positions were reversed, with Cody sitting first on the grid. The buggy main would prove to be a real challenge, as the track was very rough for the last final of the day. As the drivers picked their way around the bumpy rutted surface, Cody would forfeit the lead to Adam, only to be handed the lead again when Drake had a bobble. Travis Amezcua and Jessie Robinson also battled for the lead at times early on, but after the first round of pit stops, King clearly had things under control. The current World Champion eventually stretched out a huge lead and lapped the field, cruising to the victory. Meanwhile, through a series of crashes and mishaps, Drake found himself back in 4th position. With just minutes remaining, Drake settled down and reeled in Amezcua, passing him for the 3rd position. This could prove to be a crucial point gained in the tight series overall battle. Jessie Robinson cruised to an impressive and comfortable 2nd position.
Expert Buggy results:
1. Cody King – Kyosho
2. Jessie Robinson – Mugen
3. Adam Drake – TLR
4. Travis Amezcua – Mugen
So JBRL round 6 is right around the corner, with the series running at ARC next Sunday. That's back to back weekends after the long break. Cody and Adam are very close, tied in points, or just one or two points between them. The battle is heating up, and with Cody getting the double win the last two rounds he has attended, and even the TQ points being so important, it should be very interesting to see what happens the final 3 rounds.
Source: Kyosho [kyoshoamerica.com]
---