August 5, 2011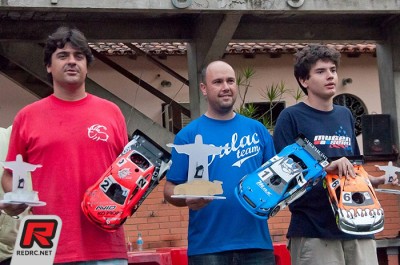 Held in Rio de Janeiro, the second round of the Brazilian 1/10 Nitro 200mm nationals attracted over 40 pilots, separated into the two categories Light, for beginners, and Pro for the experts. The four day competition promised intense action on the track with Eduardo Dulac dominating the Pro class from practice to final, taking a straight win some four laps ahead of Leandro Campos and Pedro Piau who are now tie on points leaving the championship open for the last round that will take place in Sao Paulo, in the city of Santo André.
Top 3 Pro class
1. Eduardo Dulac – Shepherd/Max Power – 161 laps
2. Leandro Campos – Capricorn/Capricorn – 157 laps
3. Pedro Piau – Capricorn/Novarossi – 153 laps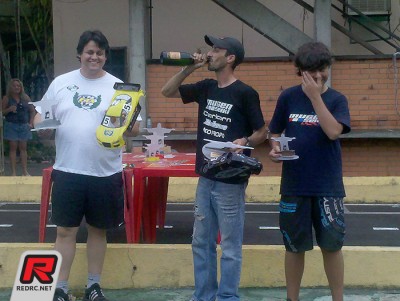 In the Light category the finals proved to be tough with each of the top 5 drivers lead the race at a certain point. At the end of the 45 minute long final Leandro Fares took the win, with Evandro Rochi finishing second, Luís Pedro took third in the last minute of race and Luciano Aquino finished 4th.
Top 3 Pro class
1. Leandro Fares – Capricorn/Novarossi – 148 Laps
2. Evandro Rochi – Shepherd/Max Power – 147 Laps
3. Luis  Pedro – Capricorn/Novarossi – 147 Laps
As in the Pro category, the championship will be decided in the last race at round three in Sao Paulo. Below you can also see some awesome First Person View coverage from Eduardo Dulac's mechanic Guto Colvara.
[vimeo]http://vimeo.com/27242509[/vimeo]
[vimeo]http://vimeo.com/27271233[/vimeo]
Thanks to Guto Colvara and Jake Marques for sending the report and pictures.
---