August 2, 2011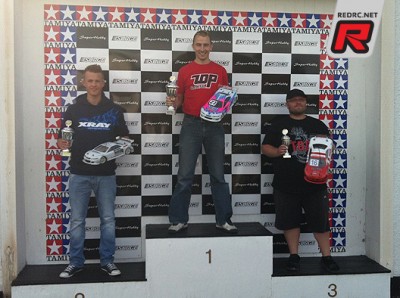 The third round of the Danish Championship for electric touring cars was held last weekend on a small technical asphalt track, 50 km outside of Copenhagen in Toelloese. The low-grip track features barriers like an indoor track, making car setup important for overall performance. In the SuperStock 13.5T "blinky" class it was a really close battle between Søren Boy Holst and Nicolai Lindegaard, with the rest of the pack a bit behind. Søren took TQ with his T.O.P. Photon car, ahead of Nicolai and Christian Lehm, who just changed to T.O.P. before this race. The finals where as close as predicted. Søren lost some of the grip in the finals, so Nicolai was all over his back in the first final, and found a way pass on the inside, and thereby winning the first A final. Second final was again close, with just a few meters between the two cars, but Søren kept his head cool, and took the win. Everything was now open before the last final. Søren held the lead from start, again with Nicolai just behind him. But after some laps Nicolai hit the rear of Sørens car, so the body got wrapped. Both drivers had problems, but after some help from the marshals, they were ready to go again. Søren didn't look back and drove perfectly to the finish line, while Nicolai was frustrated and pushed the car over the limit. Søren took the overall win, with Nicolai on second place, while Christian got a very nice debut with his new Photon.
Top 3 Super Stock
1. Søren Boy Holst – T.O.P.
2. Nicolai Lindegaard – Xray
3. Christian Lehm – T.O.P.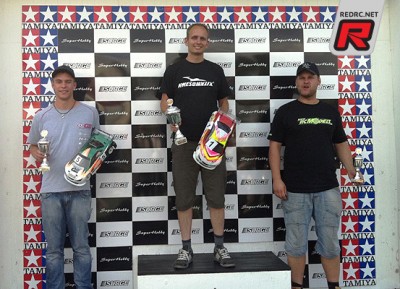 In the modified class there was Steen Graversen against the rest of the field. Steen was almost one lap ahead, in a league of his own. The battle for 2nd place was very close though between Rasmus Callesen and Morten Iversen.
Top 3 Modified
1. Steen Graversen – Awesomatix
2. Rasmus Callesen – Tamiya
3. Morten Iversen – T.O.P.
Thanks to the club for a nice race. The next race for electric touring cars will be the championship final in Glostrup on the weekend of the 4th of September.
Thanks to Søren Boy Holst for sending the report.
---