August 11, 2011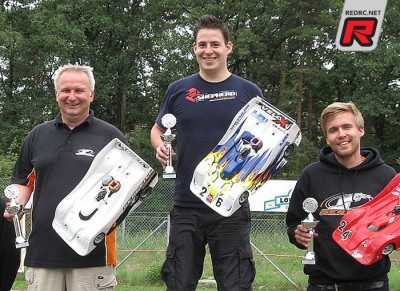 The 4th round of the Northern German 1/8 scale on-road regionals took place a the tricky track of the MSC Polizei Braunschweig. On Saturday the traction was not very high at first but after the organiser had sprayed some sugar water the track conditions became better. In the afternoon the first round of qualifying was held with Andreas Giesa (Serpent) taking the provisional TQ just a few tenth in front Hoppe (Sheperd). Unfortunately on Sunday the weather was unsettled and light rain showers affected the rest of the qualifying. Hoppe could win his semi-final and claimed the pole-position in front of Andreas Giesa and Timo Schröder (Shepherd).

At the start of the final drizzling rain came up, but all drivers chose to run on dry tyres so it was very slippery at first. Soon the rain stopped and after an exciting battle between Hoppe and Giesa the Shepherd driver crossed the finishing line in first position followed by Giesa and Depta (Serpent) with Schröder missing the podium by less than a lap. With this outcome the young German driver already won the North German Championship one race before the end of the season.
Final result Braunschweig:
1. Hoppe, Lars
2. Giesa, Andreas
3. Depta, Merlin
4. Schröder, Timo
5. Pätz, Michael
6. Schnädter, Christian
7. Bitterkleit, Norman
8. Barheine, Dirk
9. Hennemuth, Jürgen
The 5th and final round of Northern German Championship took place in Hildesheim last weekend. This time the weather forecast was fine and the track conditions were good. Already in practise Hoppe and Schröder hat a good pace resulting in another pole-position for Hoppe followed by Hennemuth, Schröder and Depta. The semi final was no problem for Hoppe and Schröder (both Shepherd) and they secured themselves the first and second position in the grid. In the semi final B Hennemuth had a collision with a backmarker and had to retire early. Also Depta had some problems but managed it to get into the final on 9th position. From the start of the final Hoppe controlled the race finished in first position nearly two laps in front of Depta with Friedrich Röhrs completing the podium (both Serpent).
Final result Hildesheim:
1. Hoppe, Lars
2. Depta, Merlin
3. Röhrs, Friedrich
4. Bitterkleit, Norman
5. Martens, Bodo
6. Böhling, Michael
7. Behnken, Joachim
8. Reuter, Dietmar
9. Kullmann, Stefan
10. Schröder, Timo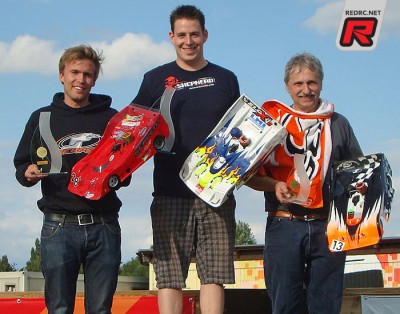 Source: Shepherd [team-shepherd.com]
---