August 8, 2011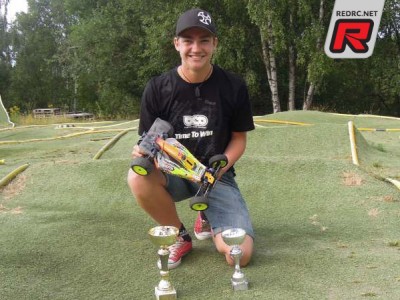 The third round of the Swedish Cup for 1/10 scale electric off-road buggies took place at the Green Hill Astro turf track in Stockholm. Featuring a challenging layout and renown for high grip in dry and a slippery surface in wet conditions the circuit was the perfect place for loads of racing action. The 2WD class was run on Saturday and Team Kyosho driver Mikael Johansson was able to TQ every qualifying rounds. Second on the grid for was A-finals was Johannes Edrén (Kyosho RB5 Mid special) followed by Otto Ausfelt (TLR 22), Friedrik Peters (Kyosho RB5) and Niclas Månsson (Associated B4). In the A-finals Mikael continued to dominate as he won both the first and second final. Besides Mikael the other top drivers was the same as in qualifying. See below a video of the first 2WD A-final.
Final result 2WD
1. Mikael Johansson –Kyosho RB5
2. Johannes Edrén – Kyosho RB5 Mid special
3. Otto Ausfelt – TLR 22
4. Niclas Månsson – AE B4
5. Fredrik Peters – Kyosho RB5
[youtube]http://www.youtube.com/watch?v=xWHjRpbx-Z0[/youtube]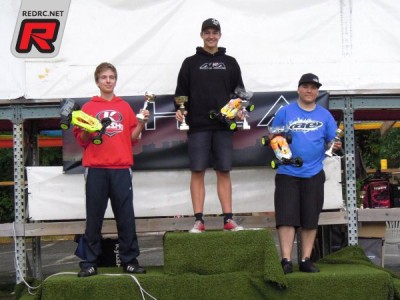 On Sunday, just in time for the 4WD class, the weather turned to the worst. with rain showers apparent all over the day. Despite the bad conditions only one round of qualifying was canceled. Once again Kyosho was dominating with Mikael Johansson did a copy from the day before. Second place went to Fredrik Peters (Kyosho Lazer). The finals took place on a very wet track and despite the worse conditions most of the cars made the whole distance in the runs. Once again Mikael showed his skills by winning the first and second final with Fredrik Peters and Niclas Månsson on second and third place.
Final result 4WD
1. Mikael Johansson – Kyosho Lazer
2. Fredrik Peters – Kyosho Lazer
3. Niclas Månsson – AE B44
4. Johannes Edrén – Kyosho Lazer
5. Mattias Forsberg – Tamiya
Thanks to Lasse Johansson for sending the report.
---