August 17, 2011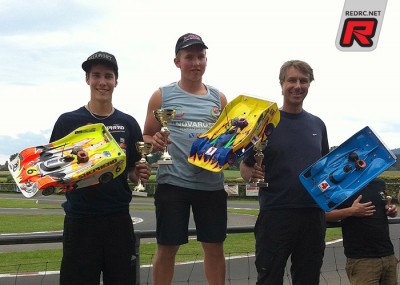 The 5th round of the 2011 1/8 scale nitro on-road Swiss championship was held at the fast and wonderful track in Sitterdorf. During qualifying Marco Müller could take TQ with running only one qualifier, Simon Kurzbuch and Luca Martinelli followed close to him. On Sunday, Simon Kurzbuch could win his semi without any problems, but Marco Müller had some smaller rear tyre issues, letting Silvio Hächler take pole position for the main final.

In the final Silvio was able to open an big gap of over one lap to Simon Kurzbuch after just 15 minutes. During the last 10 minutes Simon Kurzbuch was able to close the gap more and more, but he couldn't really challenge Silvio seeing the Mugen driver win two laps ahead with Luca Martinelli ending in third position.
Results
1. Hächler Silvio – Mugen/Novarossi/J-Tech
2. Kurzbuch Simon – Shepherd/Max/Contact
3. Martinelli Luca – Mugen/Max/UFRA
4. Pethoud Christophe – Motonica/Max/ATS
5. Pesenti Mattia – Mugen/Novarossi/UFRA
6. Müller Marco – Shepherd/Max/UFRA
7. Aegerter Andreas – Mugen/Max/UFRA
8. Hasler Remy – Mugen/Max/UFRA
9. Ali Renato – Mugen/Max/UFRA
10. Geisendorf Markus – Motonica/Max/ATS
Now the series sees four drivers who can win the Swiss Champion title at the last race in Langenthal, on the weekend of the 3rd and 4th of September. Simon Kurzbuch, Mattia Pesenti, Marco Müller and Luca Martinelli are the four fastest and most successful drivers during the current season with all of them having the chance to claim the 2011 title.
Source: Raspeed [raspeed.com]
---