August 11, 2011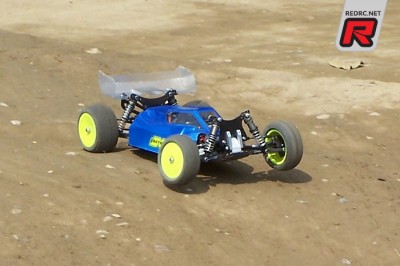 Chazz Sinclair of X Factory got in touch to tell us about their recent progress with the new X-7 4WD buggies they made. This weekend will set a milestone for the Gen 5.1 called prototypes as they are raced in two very important races – one of which is the ROAR National Championship at NorCal Hobbies.
With two big races this weekend, one on each side of the Atlantic, X Factory's drivers tested their new X-7 prototype 4WD cars August 6 & 7.  For the first time either of these new Gen 5.1 cars had ever run, the tests were successful.  Drivers have had no time to work on set-ups, and there were, of course, a few issues with the brand new cars, but the new chassis, drivelines, and suspensions worked very well indeed, making both drivers confident going into major contests this weekend. Ellis Stafford tested his X-7 at a club meeting last Sunday at Eden Park Raceway.  During the third round of practice, Ellis lapped consistently around 19.8, and had one lap of 19.2.  The prototype gear case broke, (Stafford has a new one now) so Ellis switched to his well sorted Kyosho and Tamiya cars.  Best lap with the Kyosho:  19.1.  Best with the Tamiya:  19.3.  Ellis said, "I'm confident now that, with development work, this car will be very fast indeed.  Like every X-Car I've driven, the 7 seems easy to drive fast.  It just wants to go!" Paul Sinclair tested his X-7 prototype at a club race on the outdoor clay track at Summit R/C Raceway in Ft. Wayne, Ind. on August 6, and at the indoor facility of EN Hobbies in Columbus, Ohio the next day.  "I was very surprised to set fast lap at  Summit right out of the box," said Paul, "and the car was great at EN too.  I'm really looking forward to the ROAR Nats now. This is very close to a production car." Ellis will have his X-7 at the last U.K. National Championship race of the season this weekend at Southport, and Paul is now in California for the ROAR. National Championship at NorCal Hobbies.  We'll keep you posted with results.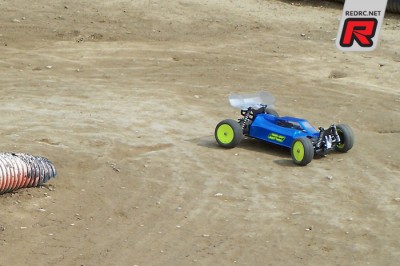 Photos are Paul Sinclair at Summit Raceway on August 6. The car shows a JConcepts body for the B44, not an X Factory body.
Source: X Factory [xfactoryrc.com]
---