September 13, 2011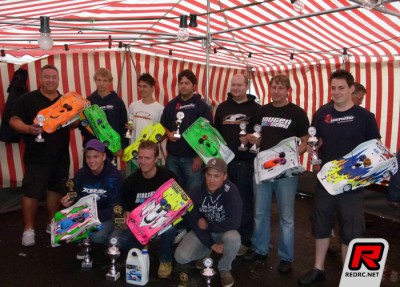 Steven Cuypers is the new German Champion 1/8 scale nitro. The Belgian took the title with a blistering performance during qualifying on Saturday when he caught pole position. But the German Nationals, held at the Motodrom Rhein-Ahr 25 kilometres south of former capital Bonn, was aborted on Sunday afternoon because of heavy thunderstorms in this area. Neither the semi finals nor the final were raced in class 1 which left the competition with an unusual result. Obviously 1/8 racing in Germany seems to be star-crossed because although the German Nationals 2009 in Hildesheim and 2010 in Roetz were affected by rain. This time the one-event German Championship was hampered by rain on all four days. On Thursday and Friday only five of ten practice rounds were run on a dry track. Also the first of five rounds of qualification was lost due to a wet track. And on Sunday rain came back about noon, followed by fearsome thunderbolts.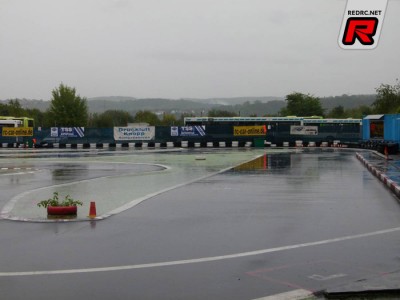 The organising club MCC Rhein-Ahr with race directors Heinz Kroezemann and Holger Schluss did their best to make it an event to enjoy. Everything was well prepared – except the weather. The atmosphere in the paddock was good and drivers took the first rain break for final preparations of their cars and for lots of nitro talks. But the competitors have joined for racing and not for hanging around and so the mood turned into gloom and frustration at the end.
Nevertheless, the German Nationals were attended by 88 racers, 44 each in class 1 and class 2. That means the highest number of competitors since a couple of years. A total of 181 drivers have joined the races in the five regional championships to qualify for the Nationals.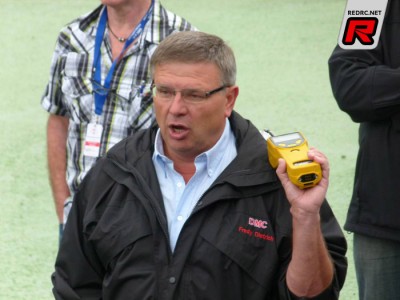 Tyre treatment has of course been an issue before the event. But Fredy Dietrich, president of the German association DMC, again was busy controlling tyres with the new measuring instrument which has proven to be effective at the German Nationals 1/10 scale nitro one week before at Kirchhain. In Bad Breisig two drivers were convicted of using illegal tyres during practice which only resulted in an official warning.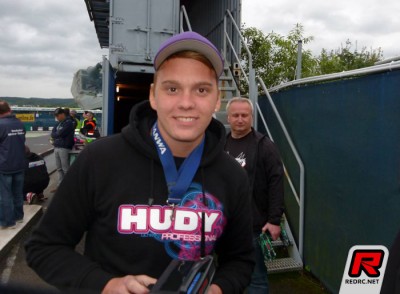 On Thursday Tobias Hepp was fastest with his Orcan powered Xray RX8 ahead of World Champion Robert Pietsch (Mugen), Philip Eberle (Serpent), Uwe Baldes (Mugen) and Steven Cupyers (Mugen). On day two Cuypers took over the lead ahead of Pietsch, Frank Schewiola (Mugen), Hepp and Michael Salven (Serpent).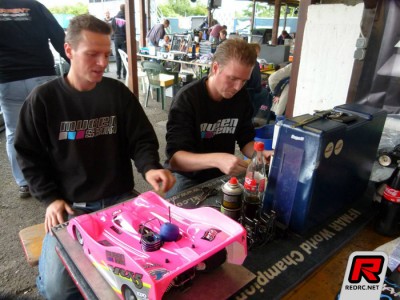 While the track was still drying up during heat one, lots of drivers set their best time for the three-lap-summary during heat two. Steven Cuypers pushed his Picco powered Mugen MXR5 to 43,548 seconds. His car was just flying around the 254 metre circuit and Cuypers, who is a regular competitor in the Western German Championship, showed an unbelievable performance with each of his heat results being good enough for pole position. And he was far ahead of his rivals, seven tenths of a second was his lead over Tobias Hepp on second position (44,238). Robert Pietsch took third spot (44,300) ahead of Lars Hoppe (Shepherd/44,335). But there are no direct qualifyers in Germany any more, the new modus for 2011 sees the top 10 set for the semi finals and five drivers bumping up from each sub-final.
The quarterfinal B saw Mugen racer Joerg Baldes winning with 57 laps in 15 minutes, closely followed by Motonica driver Armin Baier who stepped up from 1/8th final. Dominik Mayer (Shepherd) came on third ahead of Juergen Hennemuth (Serpent), who started in the 1/8th final too, and Timo Schroeder (Shepherd) coming from 1/16th final. These five drivers completed the semi final B while drivers like Oliver Mack (Shepherd) and Andreas Giesa (Serpent) didn't make it. Quarterfinal A was aborted just before the ten minutes mark due to thunder and lightning with Michael Salven (Serpent) leading in front of Philip Sting (Mugen), Michael Paetz (Serpent), Dennis Weihert (Shepherd), who started from 1/16th final, and Philip Eberle (Serpent). Those five were classified for the semi. Karl-Heinz Meister was disqualified because his fuel tank was too big so he lost his place in the semi. In total more than ten racers got disqualified for fuel tank issues, a few for other infringements to the rules.
Because no semi final and no final were held, the Top 10 of the German Nationals 2011 are corresponding with the heats ranking:
1. Steven Cuypers, Mugen/Picco
2. Tobias Hepp, Xray/Orcan
3. Robert Pietsch, Mugen/Novarossi
4. Lars Hoppe, Shepherd/Novarossi
5. Frank Schewiola, Mugen/Xceed
6. Rene Puepke, Serpent/Xceed
7. Patrick Schaefer, Shepherd/Novarossi
8. Toni Gruber, Serpent/Xceed
9. Maximilian Vogl, Shepherd/Novarossi
10.Uwe Baldes, Mugen/Orcan
Statistics: Four Mugen MRX5 were joined by three Shepherd Velox V8, two Serpent 966 and one Xray RX8. Furthermore there were four Novarossi engines, three Xceed, two Orcan and one Picco among the top 10.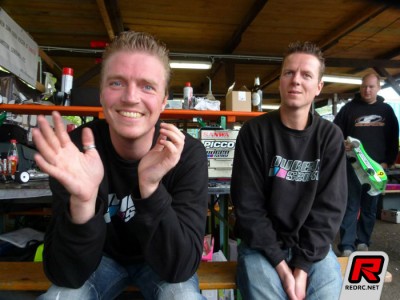 With his performance shown in the heats Steven Cuypers has well deserved the title. He is the second Belgian to catch the German 1/8 crown following Robin D´Hondt (Motonica) 2009 in Hildesheim. But Cuypers is also a lucky winner because one week before he was still sure that the event would take place one week later when he noticed in a phone call with Ingeborg Gommers that he was wrong. So only a few days for preparation were left and both Steven and his brother nick had to change their holiday to make it to the German Nationals on the right date.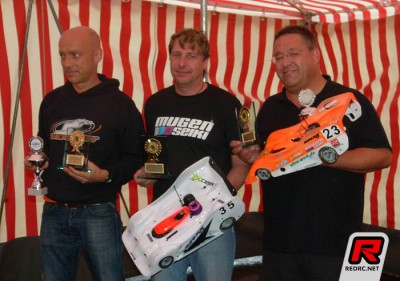 Frank Schewiola was awarded German Champion 40+ with Uwe Baldes on second and Michael Salven and Joerg Baldes on third each. Tobias Hepp was best of the youngsters followed by Toni Gruber and Maximilian Vogl.
In class 2 Dirk Drechsler (Mugen) was fastest on day one ahead of Mugen fellow Thilo Toedtmann and Matthias Meister (Serpent). On day two Alexander Mehl topped the ranking with his Xray followed by Drechsler and Toedtmann. In the heats Drechsler took an early lead but in the last heat it was Thilo Todtmann who captured pole position with 45,353 ahead of Drechsler (45,578) and Sascha Wettengl (Serpent/46,104).
Quarterfinal A saw Reinhard Zick winning ahead of Dennis Weihert, Andreas Goebel, Michael Kammer and Steffen Kuenzl, from quarterfinal B Florian Wagner, Oliver Theobald, Dennis Sting, Sven-Michael Lienhop und Sven Mueller moved up to the semi final. Semi final B was started but finally not counted following the abort of the event.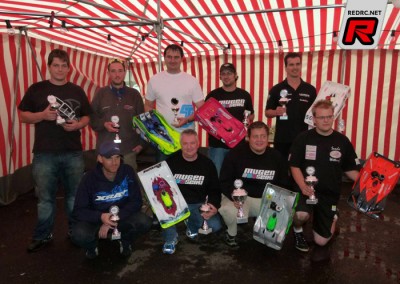 Again the Top 10 of the German Nationals in class 2 are corresponding with the heats ranking:
1. Thilo Toedtmann, Mugen
2. Dirk Drechsler, Mugen
3. Sascha Wettengl, Serpent
4. Oliver Lembeck, Mugen
5. Alexander Mehl, Xray
6. Daniel Toennessen, Mugen
7. Torsten Mueller, Shepherd
8. Matthias Meister, Serpent
9. Ralf Wacker, Serpent
10.Marcell Sledz, Kyosho
Statistics: Four Mugen were counted among the top 10 of class 2 beside three Serpent and one each Xray, Shepherd and Kyosho.
In the 40+ ranking of class 2 Drechsler was first with Lembeck second and Wacker third. Steffen Kuenzl was awarded as best youngster in front of Christian Roenicke. Best junior racer became Maximilian Guenther ahead of Dominik Schrumpf.
Image Gallery
Source: Nitro West [nitro-west.de]
---