September 16, 2011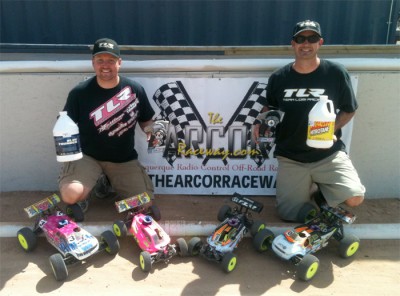 TLR was out in full force for the 18th annual Tumbleweed Classic hosted by the ARCOR R/C Club in Albuquerque, New Mexico. In recent years the club has raised enough money to add a separate Nitro only track. This keeps the heavy 1/8th cars off of the super high bite surface of the electric track. A mixture of loamy dirt and 600 pounds of sugar is known for its smooth high traction and 2 ROAR Electric National events. The two separate tracks make for an event that offers a challenge to any driver on the two opposite ends of the race surface spectrum.
In the 1/8th buggy class it was TLR driver Casey Peck who dominated qualifying with his Novarossi/Nitrotane powered TLR 8ight 2.0 buggy. Casey used the Losi G2 Green Digits with Losi closed cell foam for optimum traction and drivability. This combination was potent as he led every lap of the 30 minute main on the blown out and slick track. TLR team mate Lars Johnson came back from a bad start to cruise to a runner up position with his TLR 8 2.0 buggy rounding out a 1-2 TLR sweep.
The 1/8th Truggy class was a carbon copy of buggy qualifying as Peck took the overall TQ with his TLR 8ight-T 2.0.  With the 30 minute buggy main already run on the track it was in pretty rough shape but the TLR 8ight-T 2.0 proved to be up to the task. When the tone sounded an all out battle ensued between Lars and Casey as they swapped positions for several minutes until Lars suffered a flame out and let Casey cruise to the end of the 30 minute final. Lars shook off the bad luck and began to chip away at the rest of the field as he came from a lap down and passed his way into the runner up spot.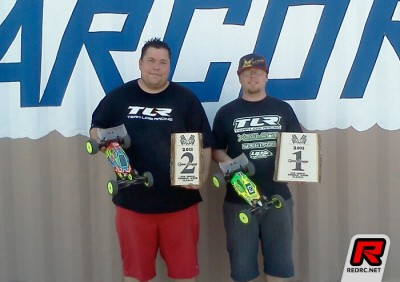 Over on the Electric track it was TLR team driver Chris Wheeler who rose to the top of 2-wheel modified qualifying with his TLR 22. The high traction track combined with tricky timing sections proved to be no match for the TLR 22. After the dust settled from 3 rounds of qualifying, it was Chris, and TLR team mate Charles Hicks who rose above a full field of copy cat-long chassis buggies. After triple A-mains it was Tucson native Charles Hicks who put his head in the game and won both the A1 and A3 to take the overall from TQ and A2 winner Chris Wheeler. Chris and Chuck both relied on Losi Red BK Bar for unmatched traction and speed on their TLR buggies.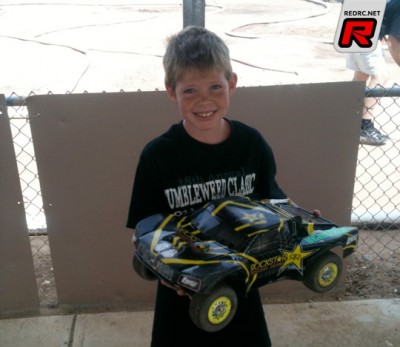 In the novice class it was local youngster Thomas Freund taking top qualifying honors with his stock LOSA XXX-SCT and capped off a perfect weekend with a convincing main event win.
Source: TLR [tlracing.com]
---