September 7, 2011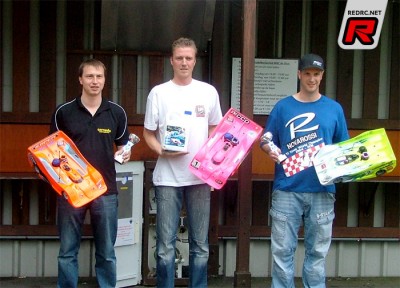 Last weekend the 6th and final race of the 2011 Dutch nationals was held at the MBC Sluis track in Gouda. Although the leading drivers in both classes were very secure to get the title there was still little room for mistakes. RickV had to reach a top-4 position to stay ahead of Belgian driver Steven Cuypers if he could win this race. The day started with some rain fading away from a huge overnight storm.The track was slowly drying and all fast times were set in the last qualification sessions. Steven Cuypers managed to take the pole followed by RickV, John Ermen and Gunther van Staey.
In the final John had some problems after the start and had to make repairs with which he lost a lot of time. On top it was Steven followed by RickV and Gunther and the race finished in the same order.
1. Steven Cuypers – 112L 30:02.664
2. Rick Vrielijnck – 112L 30:10.663
3. Gunther van Staey – 108L 30:05.271
4. Arie Manten – 105L 30:13.595
5. Michiel Renting – 104L 30:09.995
6. Frank Baggen – 104L 30:14.749
7. Martin Zevenhoven – 101L 30:06.889
8. John Ermen – 95L 29:29.575
9. Marcel Schouten – 94L 30:07.965
10.Alex Everling – 85L 30:11.979
In the NOMAC class it was William Lefévre taking the pole followed by Peter Ende, Arco de Jong and Andy Muijres. At the start William made a small mistake and Peter took the lead. But William was faster and could overtake Peter again and secure the win. William finished first followed by Peter Ende and Frederik Haaxman.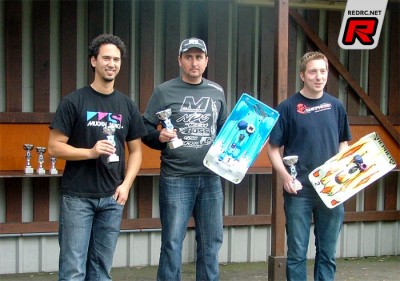 1. William Lefèvre – 102L 30:01.627
2. Peter Ende – 101L 30:01.481
3. Frederick Haaxman – 98L 30:12.598
4. Mark Hellenbrand – 96L 30:08.189
5. Ad Arents – 94L 30:11.988
6. Ron Veger – 93L 30:16.214
7. Niels Reijnders – 91L 30:14.791
8. Arco de Jong – 87L 26:32.573
9. Peter van Marion – 56L 18:12.817
10.Andy Muijres – 47L 18:29.279
With these results RickV and William Lefévre became Dutch champions and will be honored on a gala night organized later this year.
Thanks to Roelof Tooms for the report.
---